TPE 3D is an intensive app in terms of its network, CPU and GPU (graphics processor unit) usage. If you find that using TPE 3D drains your device's battery quickly, here are a few tips on conserving energy.
High Energy Usage Activities
Here is a list of the typical activities within the app that consume a significant energy:
Loading a location for the first time (requires the data to be downloaded)
Automated playback (causes the scene lighting to be recalculated at high frequency)
Flying for significant distances (graphics and data intensive)
Frequent camera movement in Enhanced Mode (uses high resolution terrain and shadows)
Leaving the app set at maximum Scene Complexity in Settings (places the highest load on the GPU and CPU)
The worst possible scenario would be something like this: max scene complexity, with Enhanced mode enable, Ken Burns effect enabled and timeline automated playback left on. To reduce energy usage, consider avoiding some or all of these activities until you have sufficient power available.
Minimizing Energy Usage
The following items are recommended to reduce energy consumption:
Reduce Scene Complexity in Settings: this is a trade-off however - reduced scene complexity means reduced detail in the 3D model
Use WiFi rather then cellular/mobile data: the WiFi chip typically consumes less energy than the cellular data network
Visit only locations you have previously visited where data is already cached on the device
Minimize Flying. If you need to get to somewhere specific, consider Searching instead, or return to a location from your Saved Locations list
Minimize timeline scrolling
Avoid use of Automated Playback
Avoid use of Enhanced Mode
Enable Navigation Lighting while flying: navigation lighting disables all shadow rendering in the app (which is an expensive activity)
Low Power Mode
TPE 3D respects the operating system's Low Power Mode. When your device is in Low Power Mode (controlled via the iOS Settings screen under Battery), the Scene Complexity setting is reduced by two steps (where possible) to reduce network, GPU and CPU energy usage. In addition, Automated Playback is disabled.
When Low Power Mode is enabled, the app will display a warning alert as shown below. Additionally, the elevation data network loading indicator at the top left of the map area displays in yellow (the same color as used in iOS 10 to indicate that the device is in Low Power Mode):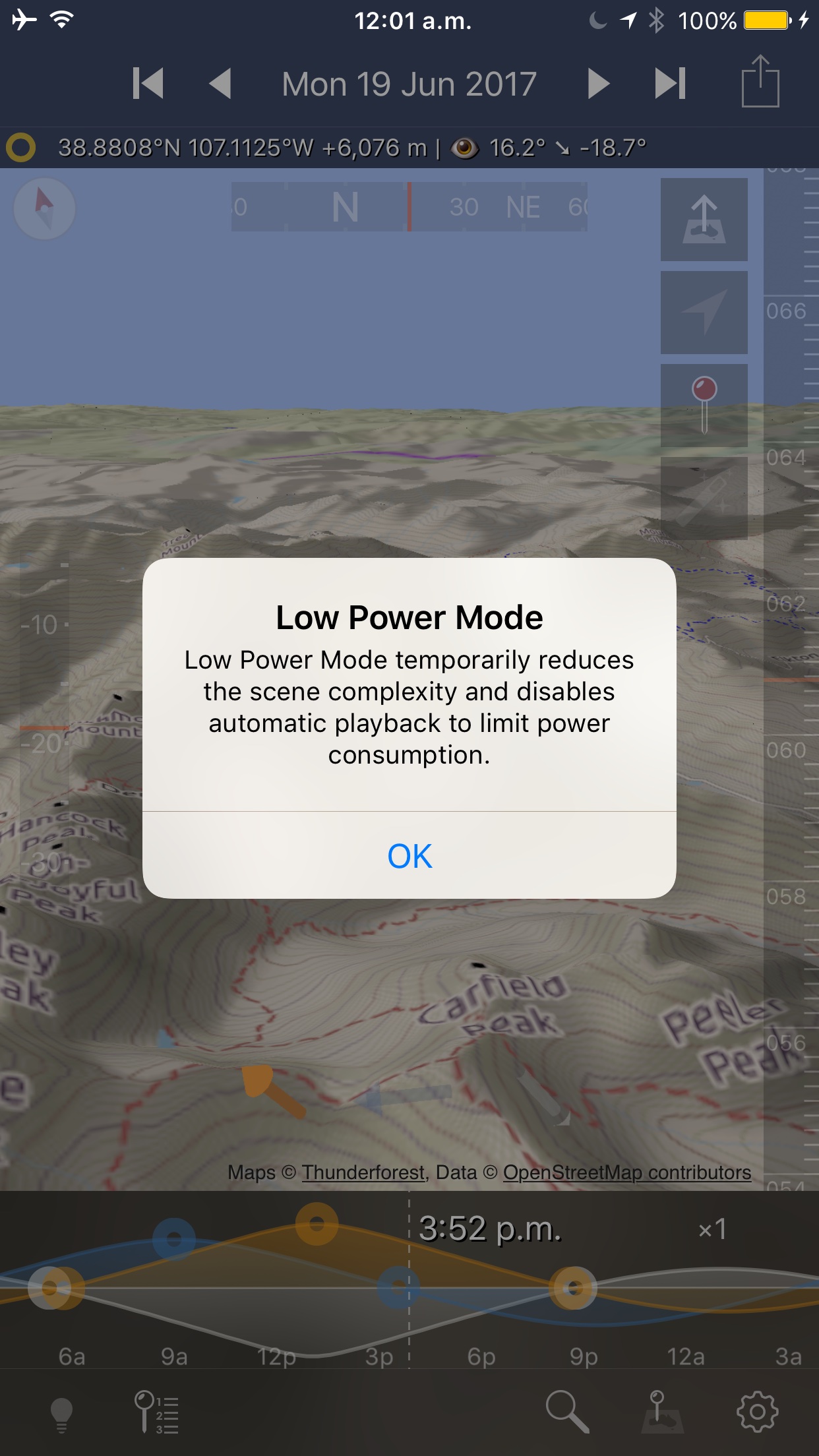 When Low Power Mode is disabled, the app will revert to using the Scene Complexity configured in Settings and Automated Playback will once again be available.