Update: Nov 2017
Here's the short(ish) version for those of you reading this for the first time:
TPE 3D was intended to be available at a discount to users who already purchased TPE and/or TPT, by means of the App Store's "Complete My Bundle" feature
As App Bundle contents cannot be changed, a new bundle for TPE, TPT and TPE 3D was created
However, it seems that, contrary to what the documentation suggests, the App Store does not recognize that a user has already purchased TPE and/or TPT when they buy the new bundle, or attempt to but TPE 3D, if they had previously received a discount towards the original bundle (comprising TPE and TPT only)
We believe this behavior makes little sense to users and is contrary to what the documentation indicates. We filed a bug report with Apple (rdar://33240909), which we'd encourage you to duplicate if you agree (it has yet to receive any response from Apple)
To make our loyal customers whole, the original pre-announced standalone price of USD $19.99 for TPE 3D has been dropped to USD $11.99, i.e. what a user who had already purchased TPE and TPT would have paid had they received the intended bundle discount
This price discount will not be maintained permanently, so we encourage owners of TPE and TPT who wish to obtain discounted pricing for TPE 3D to purchase it sooner rather than later.
Of course, this means that users who have not purchased either TPE or TPT previously also benefit from discounted pricing. That was not our plan, but there it is. If, as a bundle customer, that puts you off buying TPE 3D, then I'm sorry. I hope it won't.
If you still wish to raise an issue with Apple regarding this, please contact iTunes Support. We recommend referring them to this page, and referencing Developer Support Case ID

100223923023 and Radar (Bug Report) 33240909.
Update: Jul 29 2017
As yet, we haven't had a clarification of the intended behaviour for Complete My Bundle pricing from Apple. Given that there are many customers keen to purchase TPE 3D, and that we want to avoid you having to spend your time investigating this issue case-by-case with Apple, we've done the following:
Pricing for TPE 3D is reduced to Tier 12 (US $11.99): this is the price you would have paid to Complete My Bundle as someone who had previously purchased TPE and TPT as a bundle
Photo Planning Tools bundle pricing is reduced to Tier 20 (US $19.99), the prior full price for TPE 3D when bought standalone
Photo Planning Essentials bundle is withdrawn from sale to prevent any more users landing themselves inadvertently in the situation where they are not (apparently) eligible for Complete My Bundle pricing for TPE 3D
 These changes will remain in effect for the time being. We may revisit pricing if and when we get clarification from Apple on the expected behaviour.
Thanks for your patience.
---
Background
Some users who should be seeing discounted pricing for TPE 3D are not seeing it in the App Store. Please follow the steps below and keep us informed as to how your case is resolved - we're anxious to ensure that our most loyal users get the discount to which they're entitled for the new app.
We opened a case with Apple Developer Program support regarding this, on behalf of all affected users, but we have been asked by Apple to ask each of you to contact iTunes Support directly, so they can rule out any iTunes account configuration issues on a case by case basis.
We apologize for the inconvenience and time spent on this. We hope it is resolved quickly.
Applies to
This article applies to users who
Confirm that Complete My Bundle is not displayed
We've had one report that Complete My Bundle was not displayed initially on visiting the App Store page for TPE 3D, but appeared after a couple of seconds.
Please load the app page on your device and then wait for 30 seconds to confirm that the discounted price does not appear before continuing with the steps below. (If it does show up, please let us know!)
Steps required
We've been asked to have users contact Apple iTunes Support for this issue. Please follow the steps below:
Please contact Apple iTunes Support via http://www.apple.com/support/itunes and explain the issue you are experiencing

Please reference this article (you can send iTunes support a link to this page)

Please state that the developer, Crookneck Consulting LLC, has been asked by Apple Dev Program support, on behalf of Apple Engineering to have you contact iTunes Support. You can reference case number 100223923023 (that is the ticket that we, Crookneck, have open with Apple Dev Program support for this problem)

If you are told that the reason you are not seeing the Complete My Bundle pricing is that your purchases were credited towards the bundle "Photo Planning Essentials" (Apple ID 967694761, formerly "Photo Planning Apps"), please state that this is not consistent with what other users are seeing and refer them to the screenshots below on this page, in support of that.
Please let us know what response and resolution you receive at support@photoephemeris.com
Complete My Bundle Pricing
Customers who already purchased TPE and TPT should be able to purchase TPE 3D at a reduced price, as shown in the screenshot below: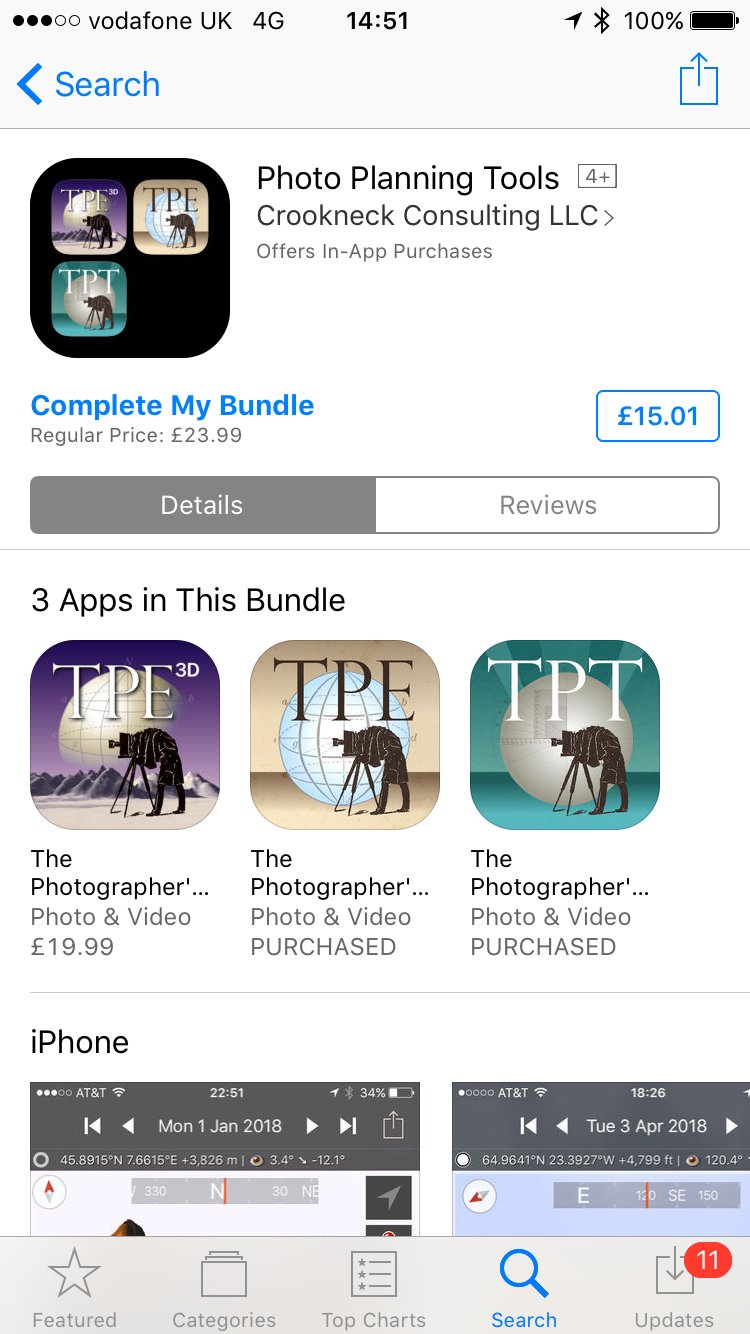 In the scenario shown above, the user has already paid for TPE and TPT and therefore is offered reduced "Complete my Bundle" pricing for TPE 3D.
However, some users report not seeing the discounted price when looking to purchase TPE 3D, for example: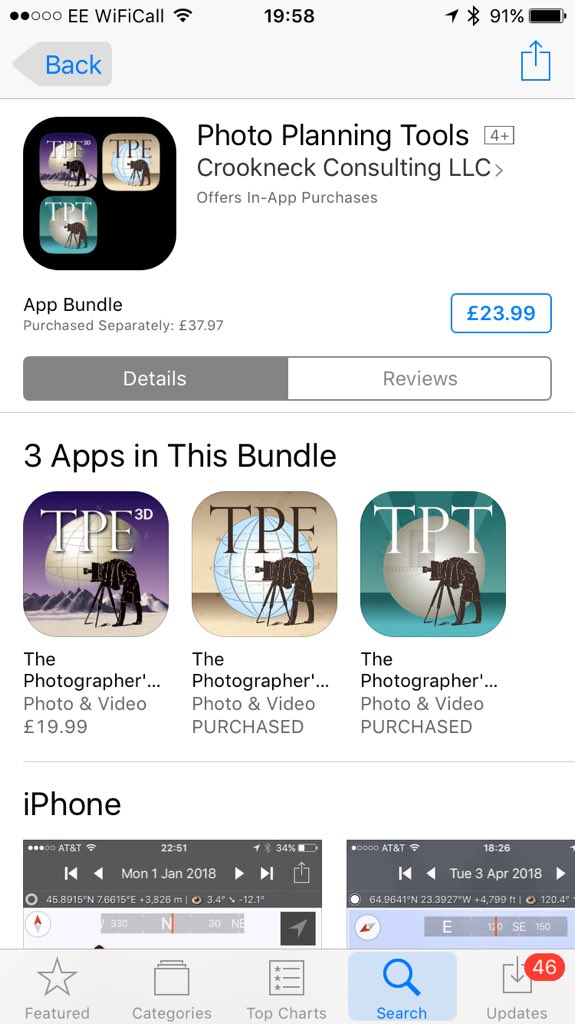 In the above screenshot, the user has purchased both TPE and TPT, as indicated, but they are not offered bundle pricing for TPE 3D.