We've spent considerable time to check and verify the correctness of the Baily's beads shown in the solar eclipse simulator.
The accuracy of the Kaguya/Herald lunar limb profile data has long been confirmed by other eclipse researchers and software authors since it was first made available in 2010.
That said, there's plenty that can go wrong in the application of the data to a simulation. Hence it is important to verify the performance of the simulator against imagery of actual solar eclipses with well documented circumstances.
This page documents some of the verifications we have performed. In all cases, the bead exposure in the simulator was adjusted to match the source material as best as possible. A solar radius of 959.95″ was used, unless otherwise noted.
If you have other photos or videos you'd like to us check, please get in touch. (Of course, you can use the tools in Photo Ephemeris Web to perform your own verifications too!)
ASE2023, Bisti Badlands, New Mexico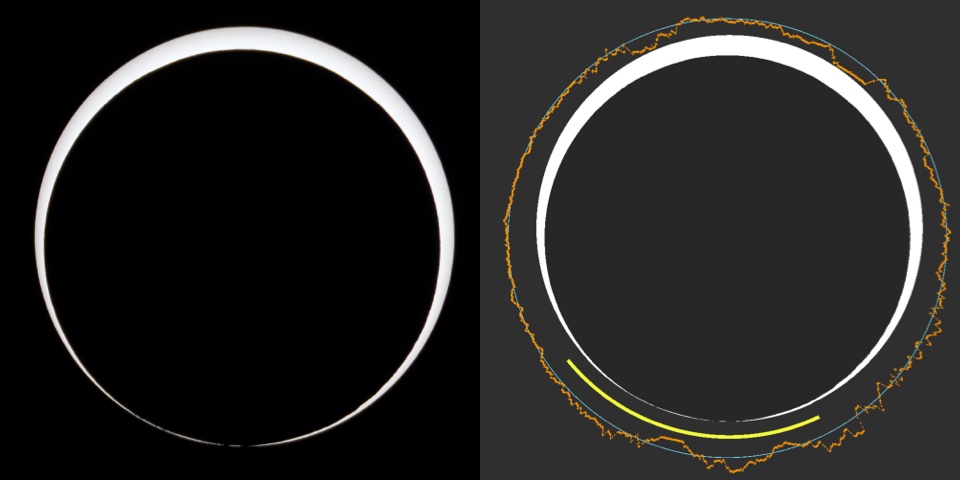 Link - Photo Credit: Stephen Trainor
ASE2023, Mentmore, New Mexico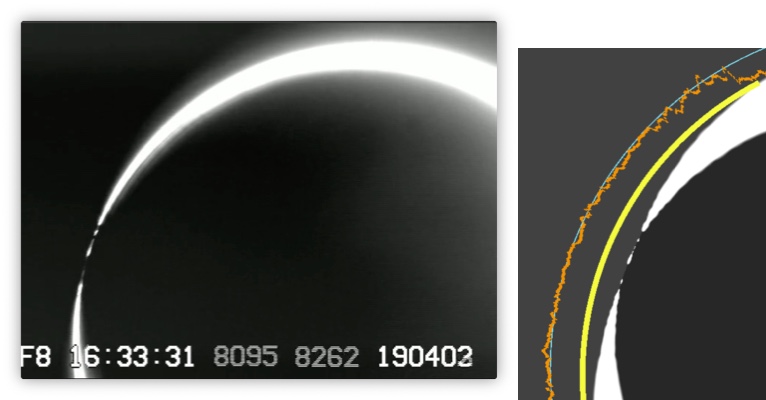 Link - Video Credit: Eberhard Riedel and David Dunham, Source, Information.
The simulator screenshot is for 16:33:31.5 UTC (mid point of clock time shown in video frame). The solar radius of 960.01″ (Guhl 2023) provides the best match to the video bead pattern.
ASE2023, Lamesa, Texas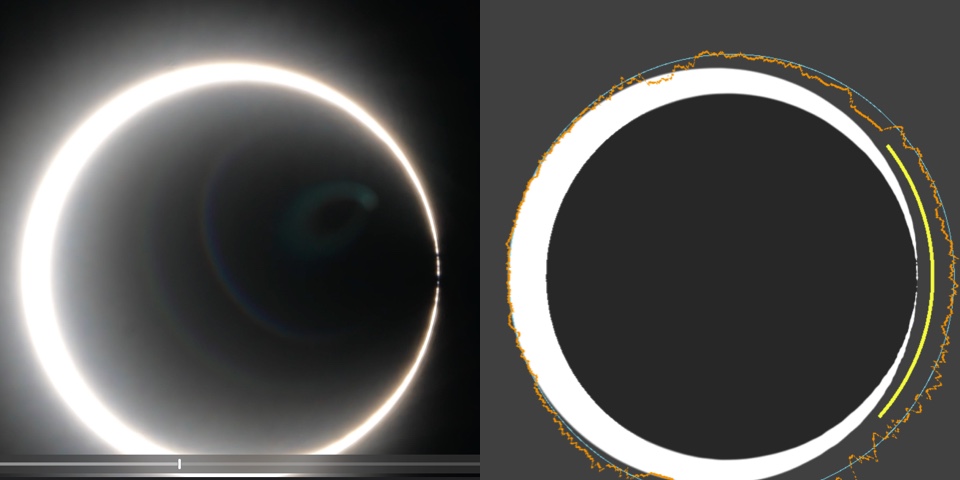 Link - Video Credit: Evan Zucker, Source
ASE2023, Grand Vista Overlook, New Mexico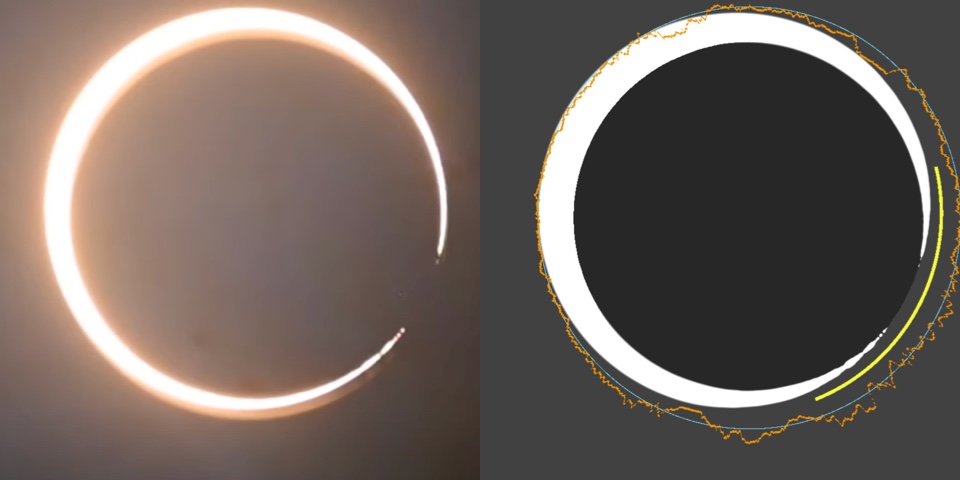 Link - Video Credit: Michael Zeiler, Great American Eclipse, Source
HSE2023, Kailis, Exmouth, Australia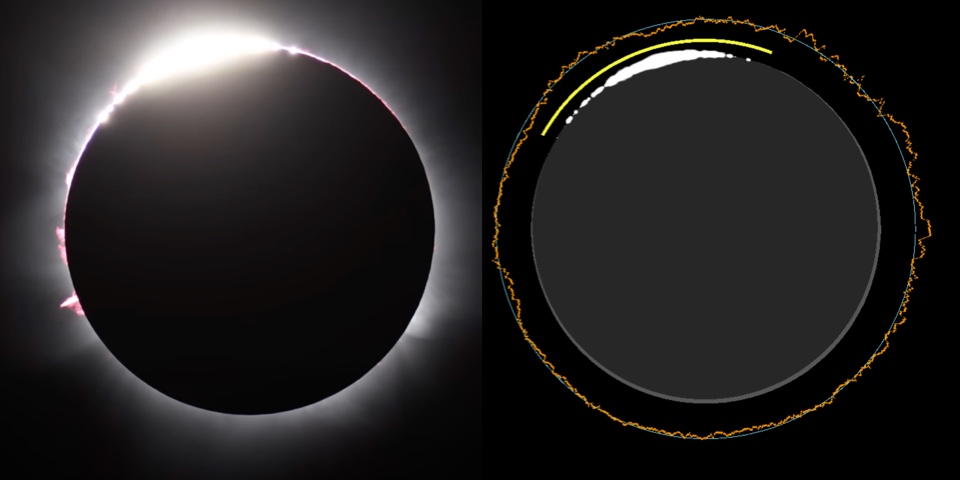 Link - Video Credit: Jörg Schoppmeyer, Source
HSE2023, Ned's Camp, Exmouth, Australia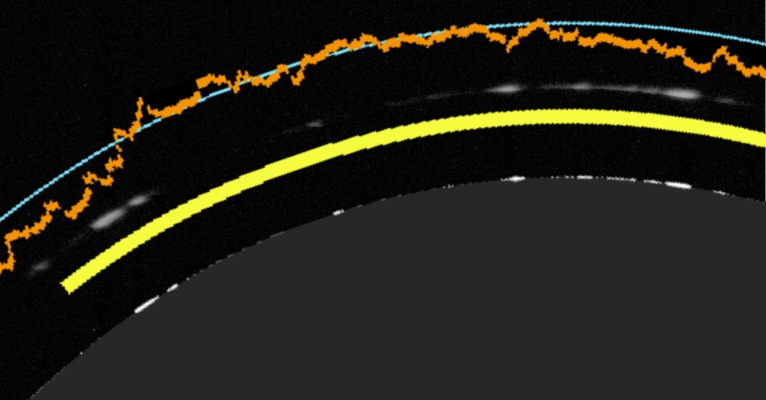 Link - Image shows Photo Ephemeris simulation overlaid on Fig. 4 from Guhl, K., "Baily's Beads Observation during the Hybrid Solar Eclipse 2023 April 20", Journal for Occultation Astronomy, Vol. 13 No. 4.
In this case, the selected solar radius is 960.01″, the central value stated in the conclusion of the paper (960.01" +/- 0.12). The screenshot from Photo Ephemeris has been rotated and scaled to match the image from the paper.
TSE2017, Madras, Oregon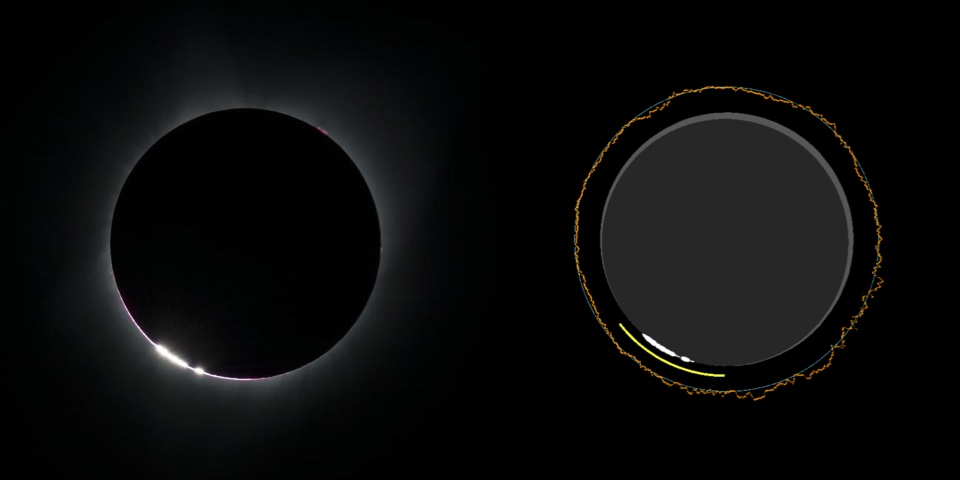 Link - Credit: NASA/Aubrey Gemignani, Source
TSE2017, Warrensburg, Missouri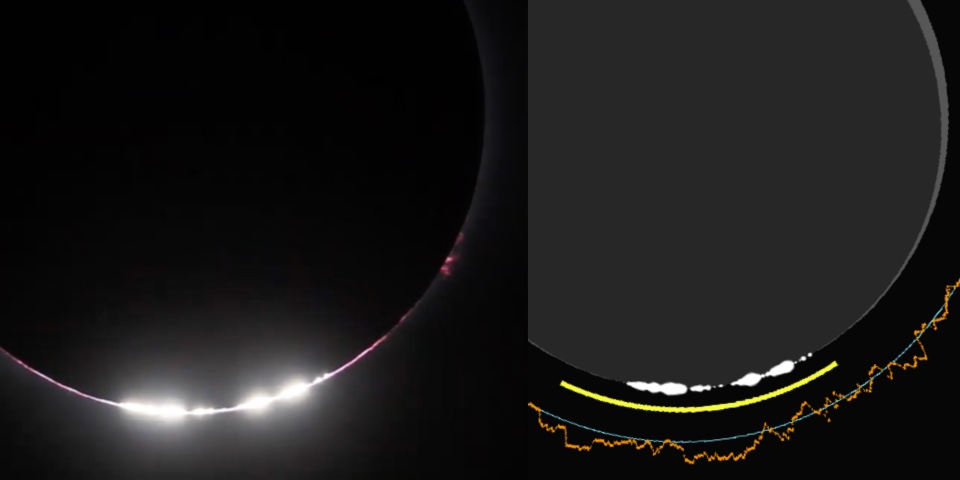 Link - Credit: Fred Bruenjes, Source
Video still flipped to correct telescope diagonal; simulator image rotated -7° to match footage alignment.