WEB ANDROID iOS
If you need support with an issue relating to our web app or web site, we'll need some information in order to help.
The best way to submit your inquiry is to use the Help "Widget" shown at the bottom right of the page: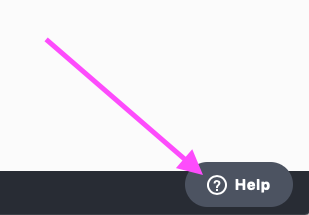 If you submit your inquiry via the Help widget, the request will include a lot of the information we need:
Operating system name and version
Web Browser name and version
The URL of the page you were on when the inquiry was created
In addition, if you're signed in with an account, the ticket may include the correct email address
If you wish to email us directly, please be sure to include all of the above information so we can help troubleshoot the problem.
In addition, it's always helpful to know:
The steps you followed when the problem occurred
What happened?
What did you expect to happen?
The

exact

error message you saw (please copy and paste), if any
Whether the problem is a one off or happens every time
Screenshots - you can attach these directly to the support ticket in the Help Widget
The approximate date and time the problem occurred (if it was not at more or less the time you contacted us)
If the Help Widget is not visible, you can instead email us directly at support@photoephemeris.com, including all the information listed above.
Email addresses
Many users have multiple email addresses. If you are contacting us regarding a sign in or password reset issue, please be sure to state the email address of your account if it is different from the email address you are writing to us from.
Mobile Apps
Our mobile apps do not show the Help Widget, but do include a "Contact Support" option on the Help page. Please use this where possible to contact us: it includes much of the required system and version information we need to help with your issue.