This article applies to our Mobile apps sold on the App Store and Google Play. For details of Photo Ephemeris Web, our desktop/laptop web app, please see Photo Ephemeris Web Pro and TPE mobile apps.
At the time of writing (February 2020), our mobile apps are sold as paid apps, i.e. you purchase a license to the app. The initial purchase fee is not recurring. For example, here, TPE costs $9.99 USD.
This is a one time payment. Future updates to this app do not incur additional charges (but see notes below). When you purchase a paid app, you are not signing up to make any recurring payments.
The same applies to our app bundle - the price is a one off payment for the apps included in the Bundle: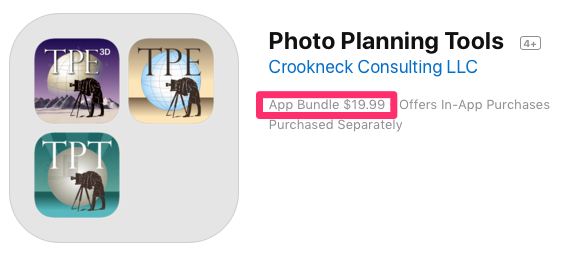 In-app Purchases
Some functionality in our apps requires an additional in-app purchase. For example, Skyfire is sold as a non-renewing subscription, as shown here: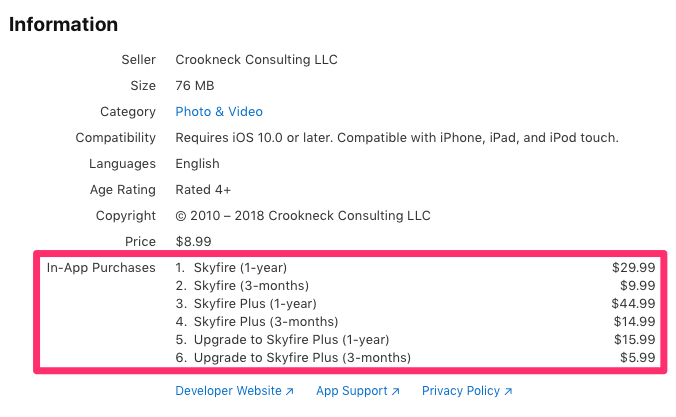 So, in this case, you would pay $9.99 to license the app and can optionally pay extra to access the Skyfire functionality (this is entirely optional, and choosing not do does not adversely affect the rest of the functionality of TPE).
Auto-renewing Subscriptions
Apple and Google do allow developers to sell automatically renewing subscriptions. You can manage your subscriptions on each platform as shown in these articles:
View, change, or cancel your subscriptions (Apple)
Subscriptions on Google Play (Google)
At the time of writing we do not offer any auto-renewing subscriptions on the App Store or Google Play (this could change in the future).
Updates
We endeavour to keep our apps updated from time to time with bug fixes, new features and other improvements. However, please note that the frequency of updates is not guaranteed.
Notes
Please note:
We reserve the rate to change app prices
We may change to other payment models. For example, additional functionality may require an in-app purchase or may be made available via a subscription
We may release apps in the future: previous purchases do not provide access to new apps and do not necessarily mean that you will be able to purchase any new apps at any discount to the regular price
We are not necessarily able to provide advance notice of such changes
We always try to be clear about pricing models - if you have any questions or concerns, please submit a support request using the link above.