Earlier versions of TPE for iOS defaulted to opening at today's date and time. In recent versions (2019 onward) we have changed the behavior to make the app restore the last used date and time.
As TPE is a planning tool, users often wish to research a date in the future (and some users are looking at events long ago in the past). The current design ensures that the app will never arbitrarily "lose" your date.
However, for some users, today is the day they care about, particularly, for example, if you want to view today's Skyfire forecast for sunset.
In order to support both use cases, upon opening, if the last date is no longer the same as today, you will be prompted to ask if you want to reset the date to today: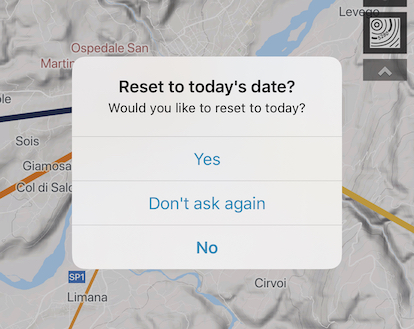 Choose "Yes" to switch to today, or "No" to leave the date as is. Choose "Don't ask again" to stop being asked in the future.
If you choose "Don't ask again" but later change your mind, you can re-enable the prompt in Settings: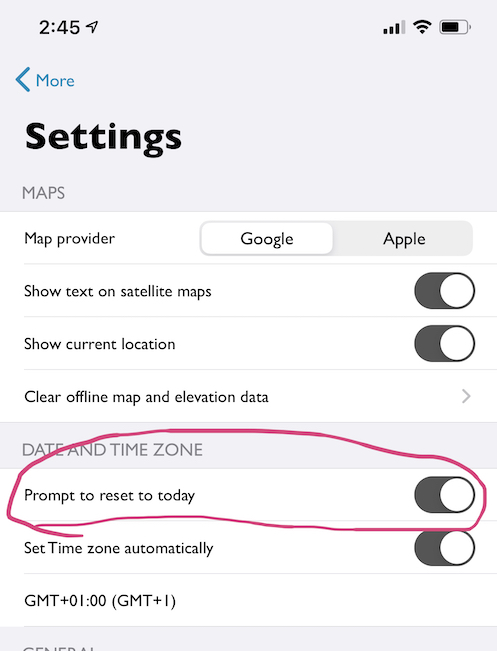 Note
When the app resets the date, it leaves the time of day as it was. This is intentional. For users consulting a Skyfire sunrise or sunset forecast, as the time of rise and set varies only a little day by day in most locations, leaving the time of day the same allows those users to choose reset and see the current day's forecast without any further action.
If you wish to reset the app to the current date and time, tap the clock button at the top left. This enables real-time tracking in the app until the date or time is otherwise changed.