Applies to: Photo Ephemeris Web 2.0
The web app should not require you to log in every time you time you visit the site.
If you are being asked to log in every time, in the majority of cases, it will be due to browser privacy and cookie settings. Here are some examples of situations that will cause this:
Private or Incognito Browser Window
If you use a private or incognito window, sign in, then close the window and open another one, you will need to sign in again. The sign in information is discarded when you close the browser the window and so the app has no way to automatically refresh your sign in status.

This is by design: it's what private browsing is intended to do - to leave no trace on your local computer that you have visited the site.

Private windows can also prevent saved locations from working (see Saved Locations missing/unavailable.)
Solution: if you would like to stay signed in, do not use Private or Incognito windows with Photo Ephemeris Web.
Delete cookies on closing
If your browser is set to delete cookies and site data on closing, then you will need to sign in afresh every time:

Solution: do not delete cookies for the site upon closing.
Cookie Blocking Browser Extensions
Browser Extensions such as I Don't Care About Cookies will block cookies in your browser, causing you to have to sign in every time you visit the site.
Solution: uninstall or disable such extensions or whitelist the *.photoephemeris.com domain.
Block cookies
If your browser is set to block cookies, the site will not work as expected. Among other adverse effects, your sign in session will not be saved and you will need to re-sign in every time. Here is an example of the setting using Firefox: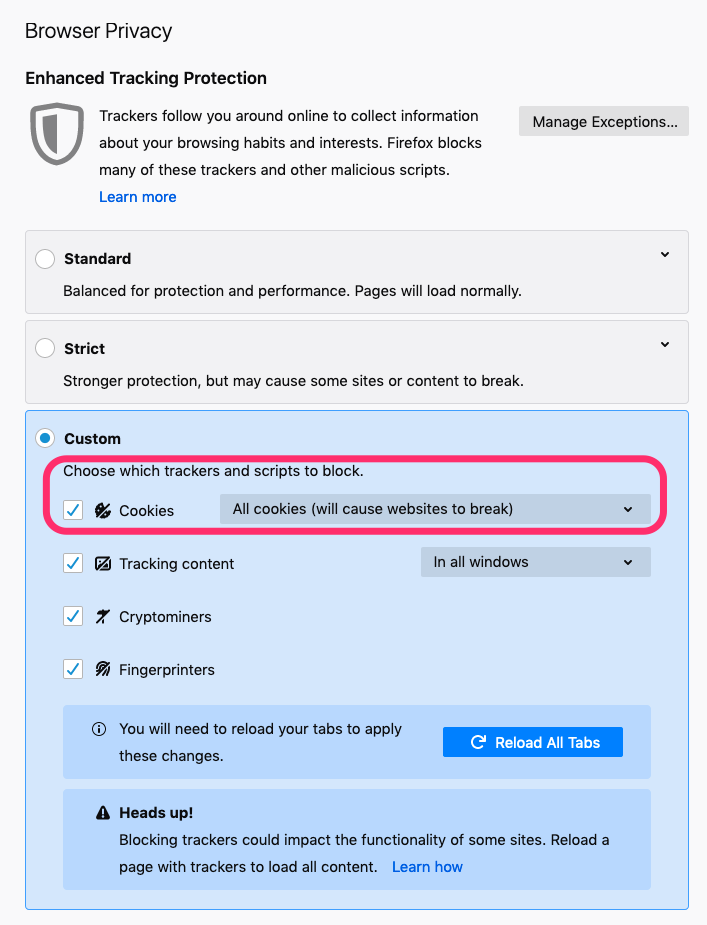 Solution: do not block all cookies. (It is however ok to block 3rd party cookies if you wish.)