WEB
This tutorial is a quick guide to getting started with Photo Ephemeris Web so you can begin planning your next photo trip.
You'll find the web app at app.photoephemeris.com. Click the link to get started - just make sure you're browsing happy with an up-to-date browser.
Note: Photo Ephemeris Web is designed for desktop and laptop computers, but is also accessible on tablets. On mobile devices, you may sign up for an account and complete a password reset, but it is not possible to access the web app on mobile devices.
1) Cookies
If you're happy to accept cookies, please click the Accept button shown below: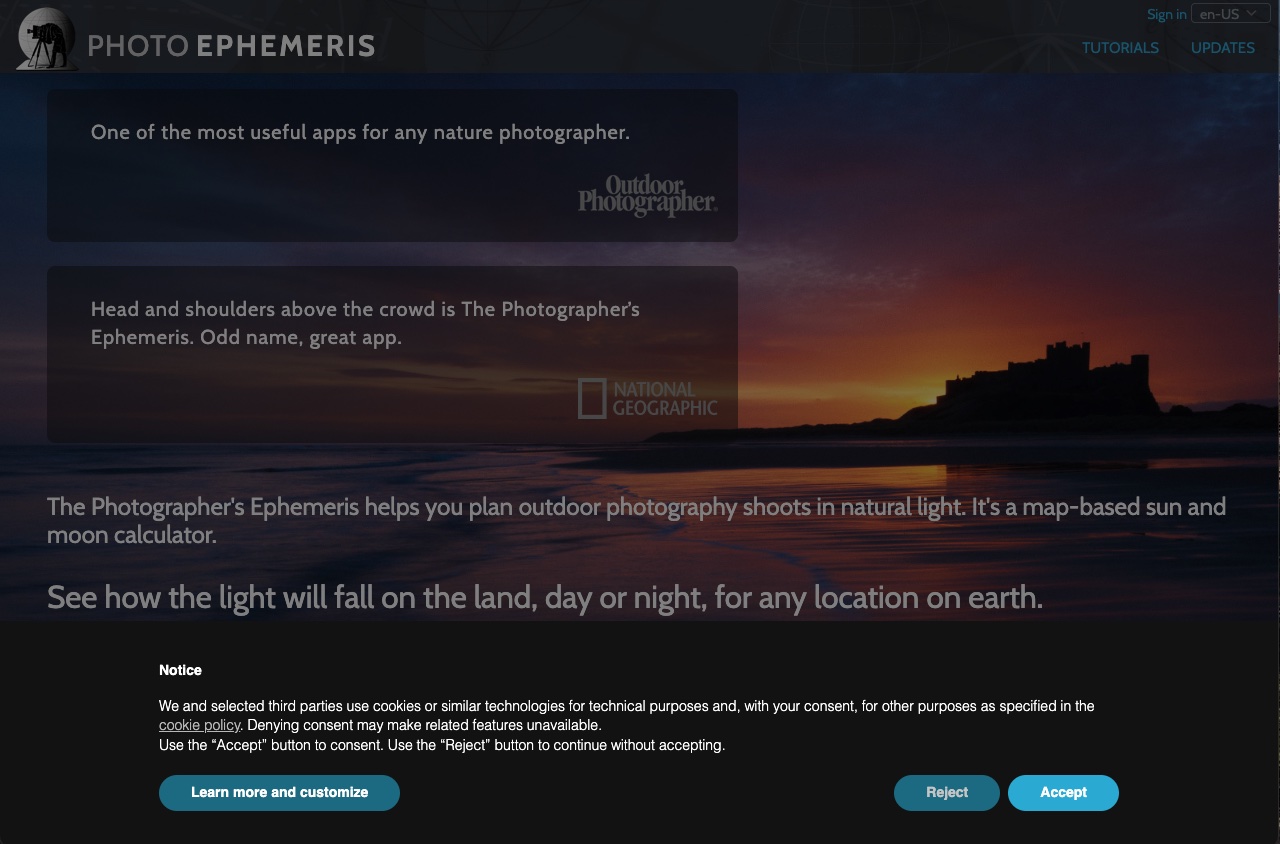 Note that the site will not function correctly if cookies are disabled in your browser or you are using a private browser window, ad blocker, or content blocker. We do not require you to accept 3rd party cookies. If you don't see the Cookies banner, please see Cookie banner not displayed and Photo Ephemeris Web requires login every time for further information.
2) Start Planning
Click Start Planning Now to get started: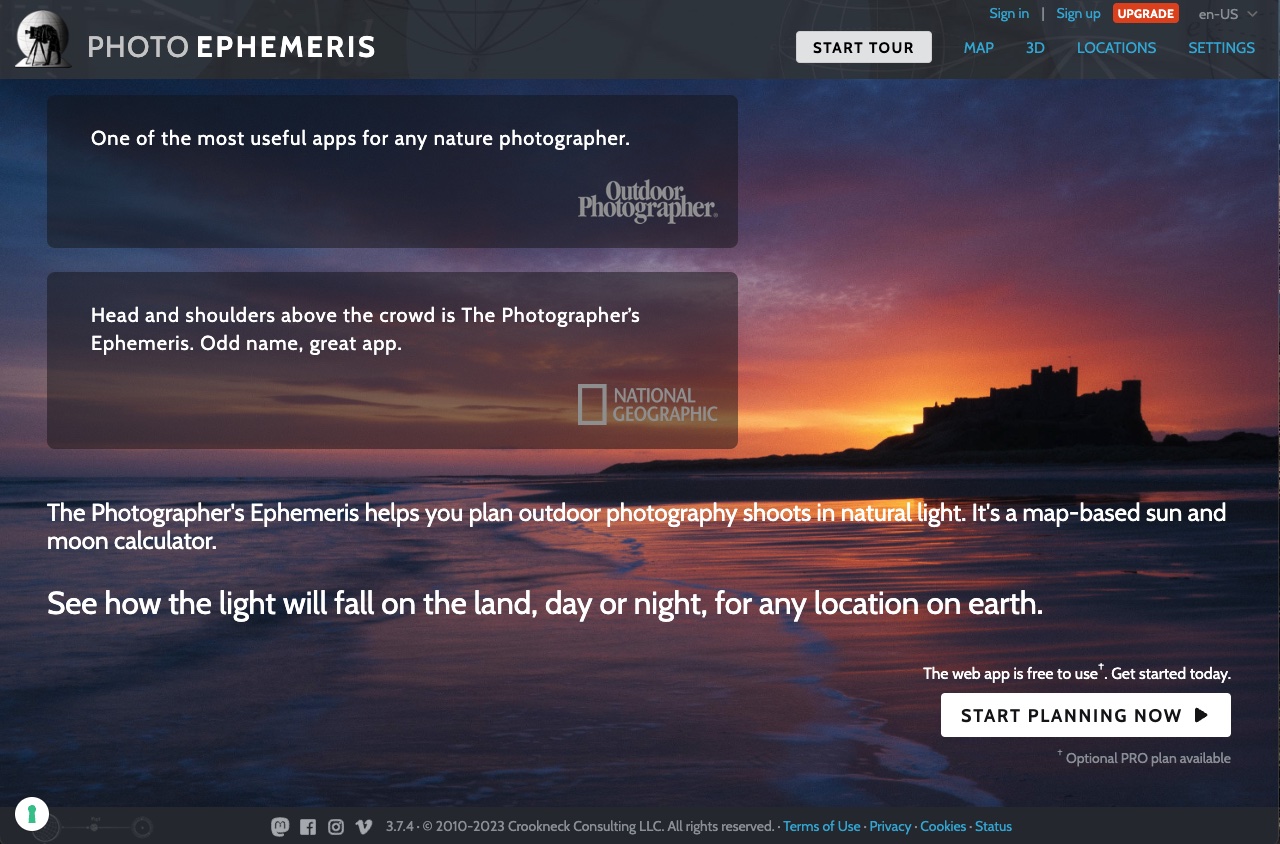 3) Take the Photo Ephemeris Web Tour
After clicking the "Start Planning Now" button, you'll be taken directly to the web app. To help you get started, we recommend going through the tour, which introduces you to the user interface. If you prefer, you can always close the tour and come back to view it later.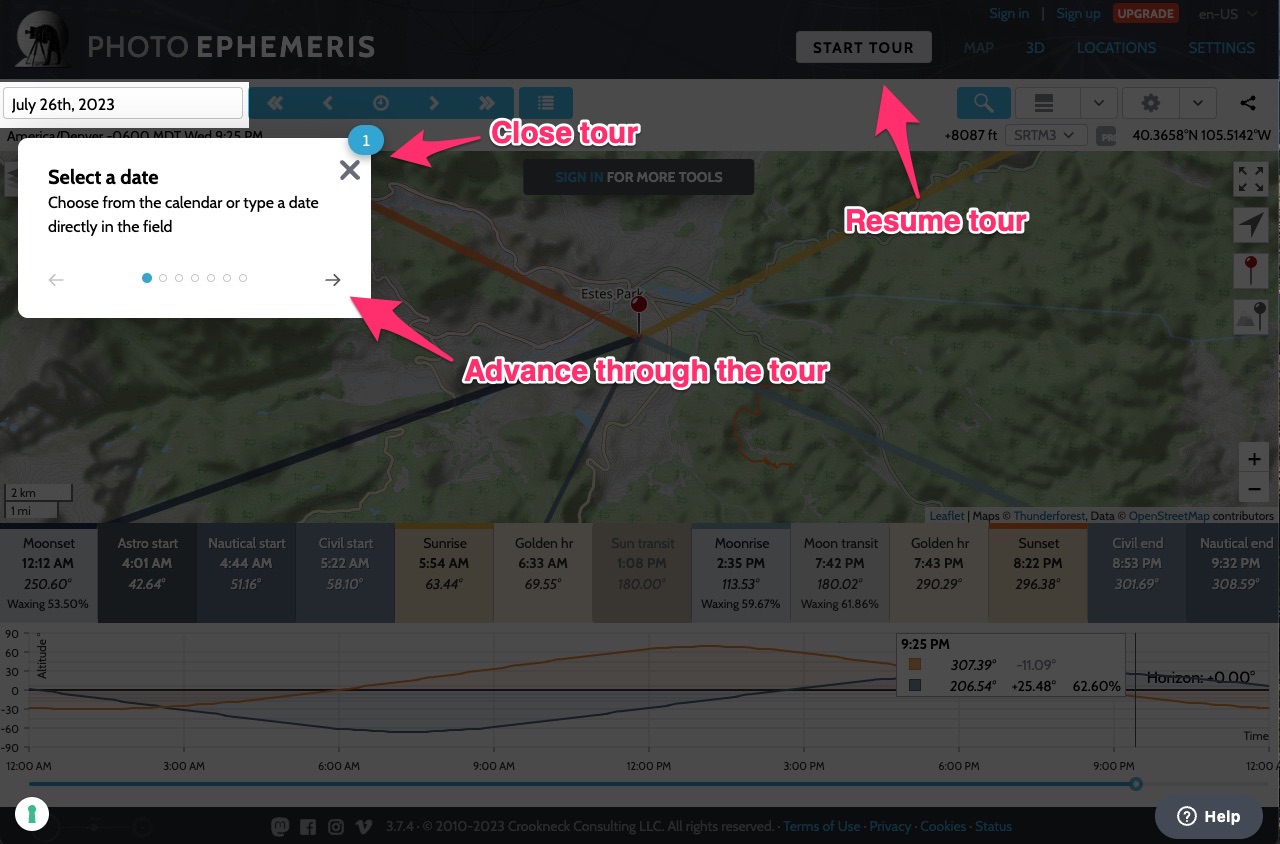 4) Create a free account
An account isn't required to use Photo Ephemeris Web, but if you don't already have an account, we recommend creating one so that you can access more tools and save your locations. Simply complete the short form to create one - it's free: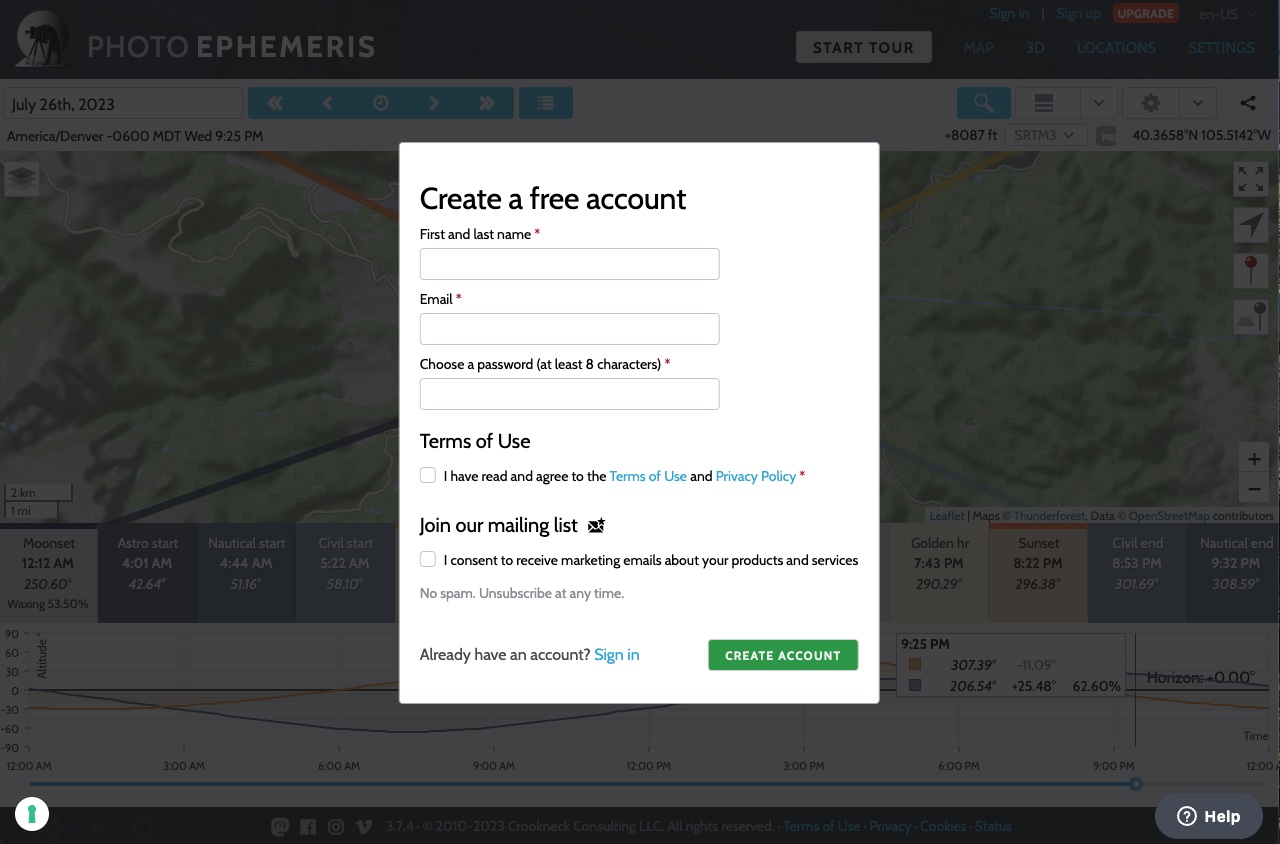 We recommend signing up for the mailing list to receive updates, tutorials, product news, and more.
After you create your account, you will receive an email asking you to confirm your address by clicking a link. Please do this upon receipt - you will need to verify your email to continue using the site.
Note: please avoid using spam protection services that require senders to your address to click a link before the message is delivered to you. Our sign up system is automated and we are unable to process such messages.
5) Sign in
Sign in to your new account to get started, using the email address and password you chose in Step 3: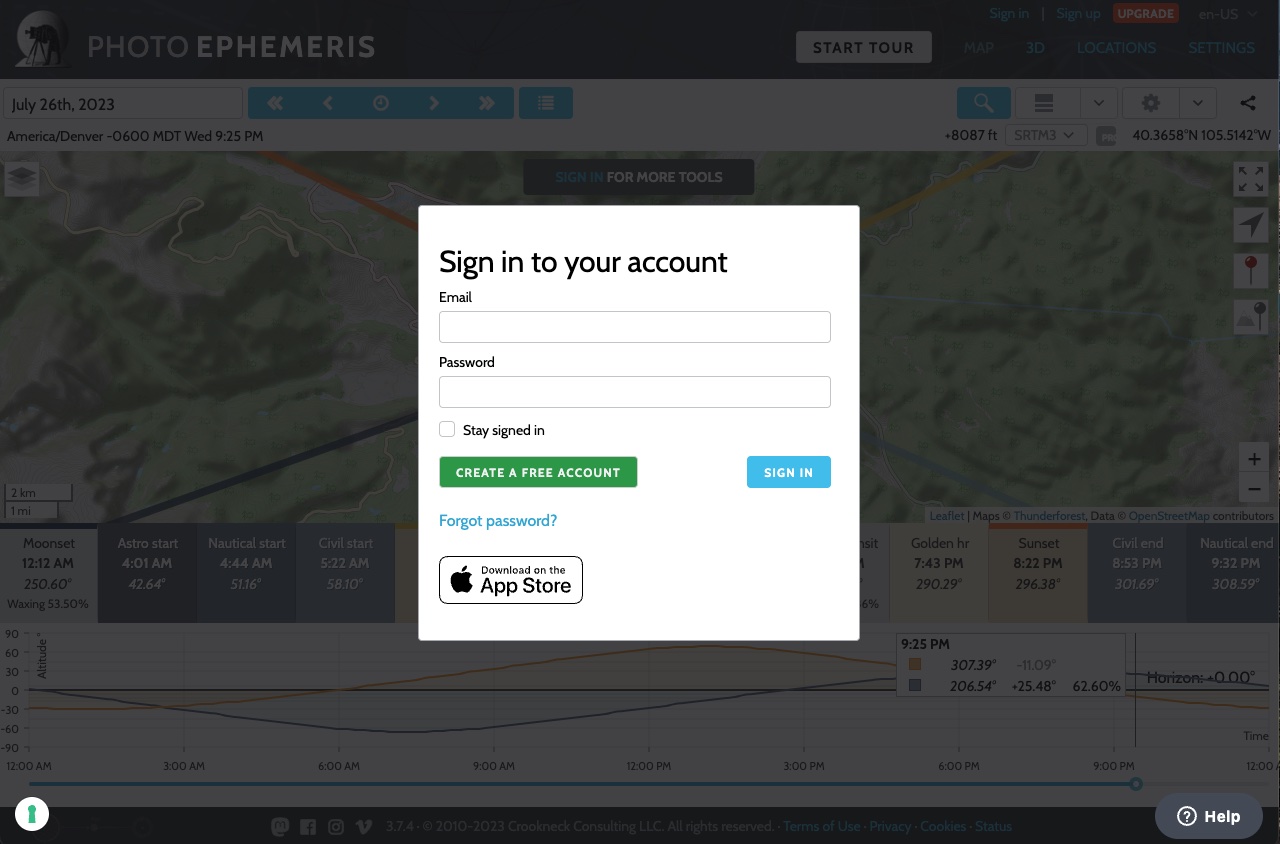 If you're forgotten your password, click the Forgot password? link and enter your email address to receive a reset link:

See Completing your password reset for instructions on the entire password reset process.
6) Get planning
Congratulations - you're up and running! You can start planning your outdoor photography - if you're ready to jump in, you can skip forward to Part 1 of this tutorial series now.
7) Manage your account
There are a few controls at the top right of the screen to help you manage your account and other features: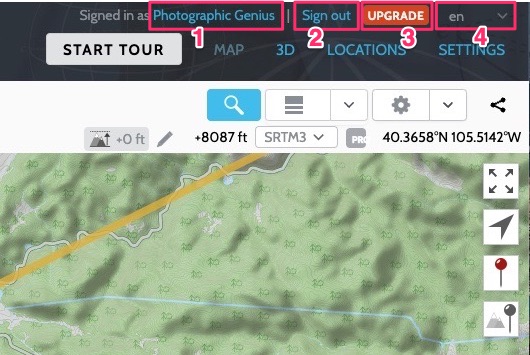 1) Signed in user - click to edit Account 2) Sign out 3) Upgrade to PRO 4) Change language
You can manage your account details by clicking on your email address or name, which is displayed when you're signed in: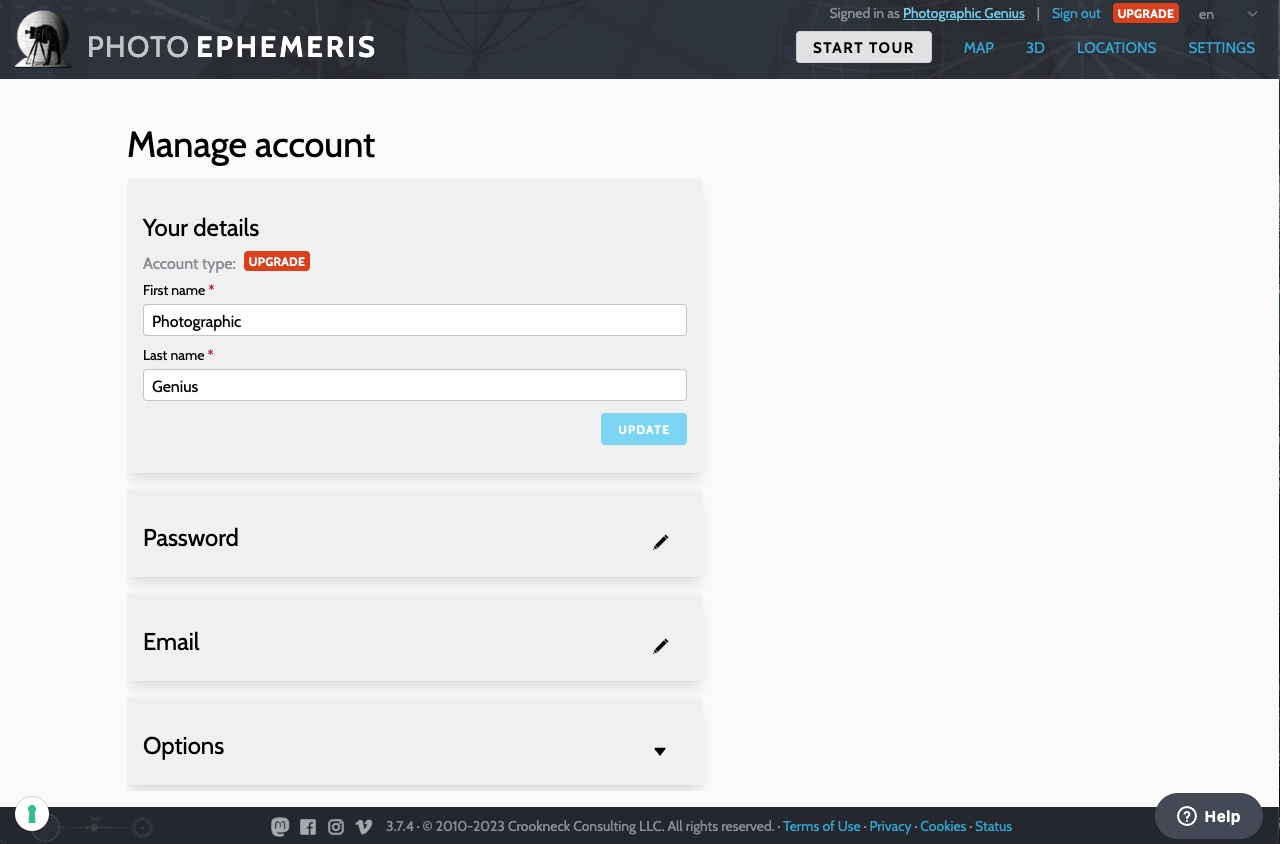 In the Manage account page, you can change your first and last name, change your password, change your registered email address, or delete your account.
If you change your registered email address, a couple of things to note:
You will need to re-verify the new address - we'll send you a new verification link by email
You won't be able to delete your account if you have an active subscription to the paid PRO plan (cancel the subscription first)
Changing your account email here does not change the email address on file for your mailing list subscription, or with our online merchant of record (reseller), Paddle.com.
Sign out
You can optionally sign out of your account using the Sign out link at the top right (3). It's generally more convenient to stay signed in, however - you'll save on loading time, bandwidth and mouse clicks.
Change Language
You can change the displayed language using the country code links at the top right (4). At the time of writing, we support English, German, Spanish, French, Italian, Korean, and Polish.
7) Upgrade to PRO
After using Photo Ephemeris Web for a while, if you find it useful in your photo planning, consider upgrading to PRO. The PRO plan includes a number of benefits, such as many additional maps, Google Street View, improved location search as you type, and more.
Click the Upgrade link (2) to view purchase options, click "More Options" to display additional purchase options: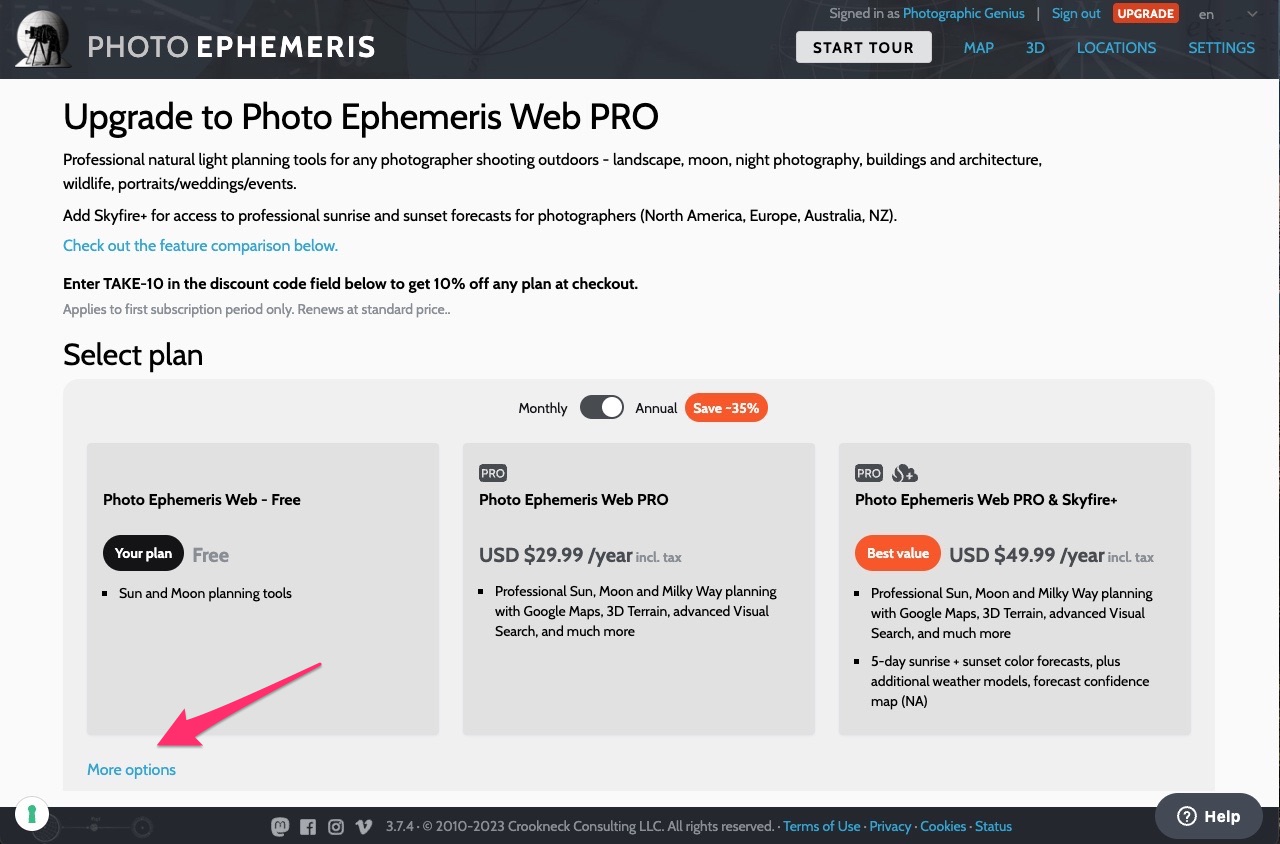 If you have a Discount Code, view instructions here: Photo Ephemeris Web PRO: Applying a Discount Code.
PRO subscribers will see a PRO badge at the top right of the screen after upgrading: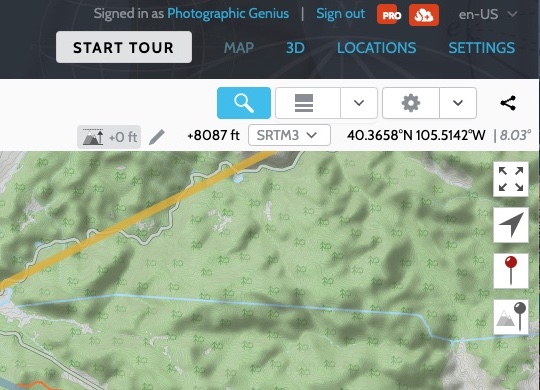 ---
Please be sure to check out the remainder of the tutorials, continuing with with Using Photo Ephemeris Web, Part 1: Basics.