WEB
If you are a Photo Ephemeris Web PRO Subscriber, you can manage your subscription, by clicking the PRO badge at the top right of the screen: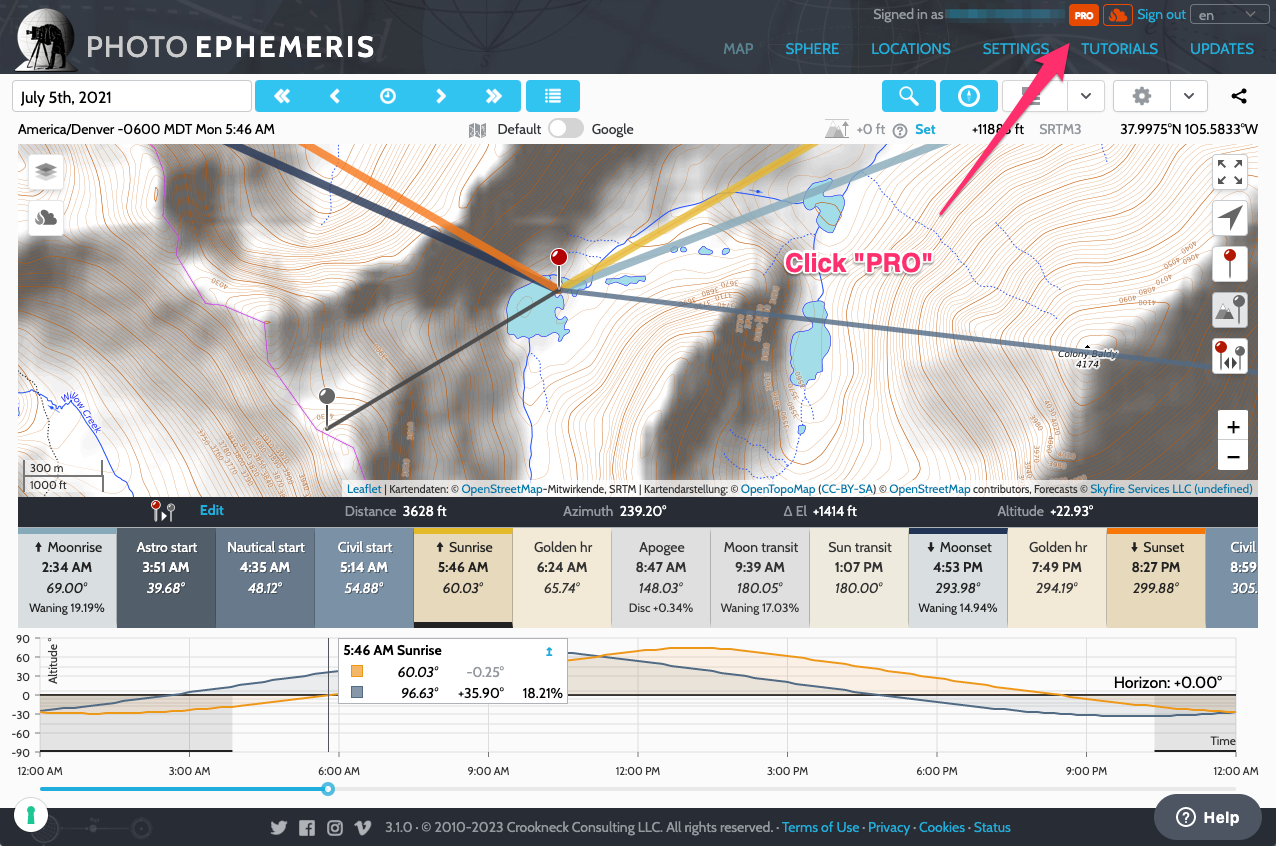 The next page provides you with the options of managing your subscription or requesting your order history, it provides a feature comparison for the different subscriptions.
Note: If you are a Skyfire+ subscriber, you can manage your subscription by clicking the Skyfire icon at the top right of the screen.
Managing Your Subscription
To manage your subscription, click "Manage Subscription:"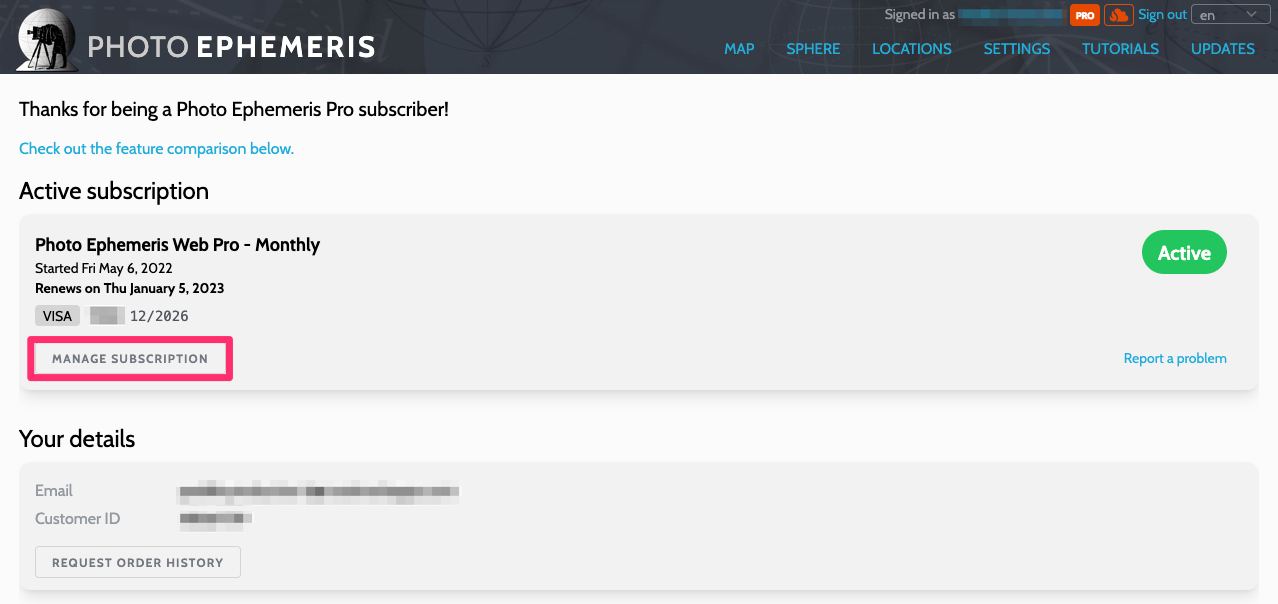 Available options are displayed after clicking "Manage Subscription:"
Click to update your payment method, cancel your subscription, pause payments (if you have a monthly subscription), or change your plan.
Updating your Payment Method
Your current payment method is displayed (for credit cards, the type, the last 4 digits, and expiration date - that is the only information we have access to, as payment details are held by our payment processor, Paddle). If you need to update your payment method, you can do so as follows.
To update your payment method, click Payment Method. You will be shown a popup window where you can confirm the changes: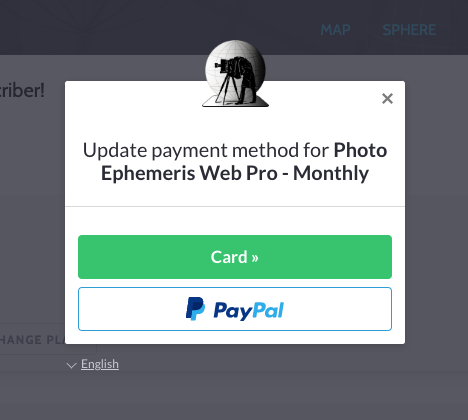 Pausing and Resuming your Subscription
If you have a monthly payment plan, you can Pause and Resume your subscription (for example, if you only use the site seasonally).
When you pause your subscription, your PRO subscriber benefits remain available until the next scheduled payment date. At that time, no further payment is collected and your plan enters a 'Paused' state. PRO benefits are no longer available.
You can resume your plan at any time. If payment is due, it will be collected upon resuming and your PRO benefits will be immediately available. If no payment is due, the scheduled pause is simply cancelled.
If a subscription is left paused for longer than 9 months, it may be cancelled as dormant.
Changing your Plan
You may change your current subscription plan by clicking Change plan. For example, annual plans offer significant savings over monthly plans, so you may wish to upgrade.
Available plans are displayed, including your current plan. You can click to select a new plan and then preview the change to your payments before confirming: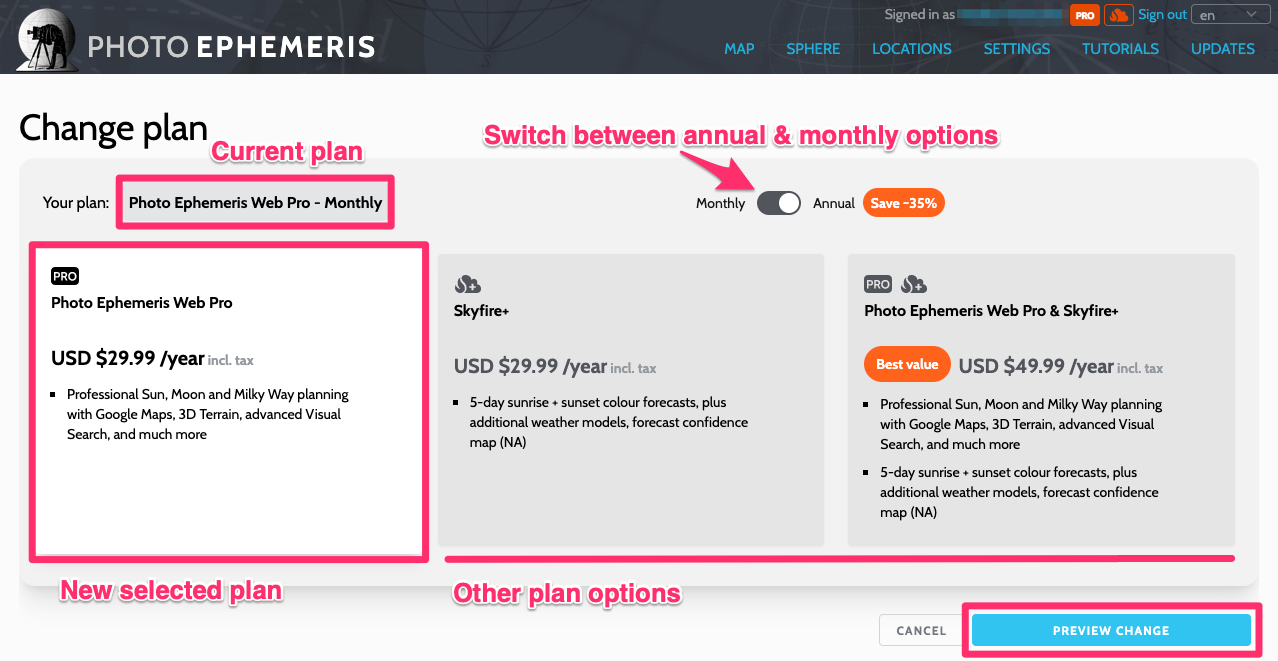 On clicking Preview change, you will be shown a summary of your new pricing. If you would like to proceed, click Confirm Change. Your current payment method will be used to collect any payment due today.

IMPORTANT: if you signed up using a discount code ('coupon'), note that the discount will no longer apply if you change plan. This is not supported by our payment processor. We recommend that you do not change plan while your subscription is in an introductory discount period in order to keep your discounted price.
After confirming the change, your plan will be updated and a confirmation screen displayed. Click Finish to refresh your subscription status.
If you have any questions or concerns related to your subscription, click Help to contact us directly - we are happy to help.
Cancelling your Subscription
If you would like to cancel your subscription by clicking Cancel and follow the prompts:
After cancelling, you will retain access to your paid plan features until the subscription expires at the end of the current subscription period.
Please consider sending us feedback or reaching out for help if you need assistance using Photo Ephemeris Web.
Order History
If you require a copy of a previous order or invoice related to a subscription, you can request your full order history by email on the Subscription page, as shown below: click Request Order History and confirm the request:

An email will be sent to you with links to all previous orders.