If you see a blank screen when loading Photo Ephemeris Web, there are a number of browser settings to check.
Check your browser version: ensure you're using an up-to-date version - see Browse Happy for options
Ensure JavaScript is enabled (details below)
Ensure Cookies are allowed - see Photo Ephemeris Web requires login every time
Whitelist the site with any Ad Blocker or Content Blocker you are using, or relax the restrictions in line with your preferences - see Cookie banner not displayed
Finally, the site will not work with Google Translate or similar automatic translation services - please disable this function to use the app (we have additional languages in the works)
I'm still having a problem
You may need to clear your browser cache. Instructions on how to do that in all major browsers are here: Selectively clearing site data and cookies
You should also clear cache:
If you can sign in ok, but then see an error saying your user profile could be retrieved
If the map does not appear but instead says "Waiting for map configuration" after sign in
Also, if you like, you can check if locally cached data is the problem by opening a Private or Incognito window and loading the site there - if it loads OK in a private window, but not in a regular window, that's a sign that the cached data is bad.
JavaScript must be enabled
If Javascript is disabled, you will see a blank screen or something similar to this (example from Chrome):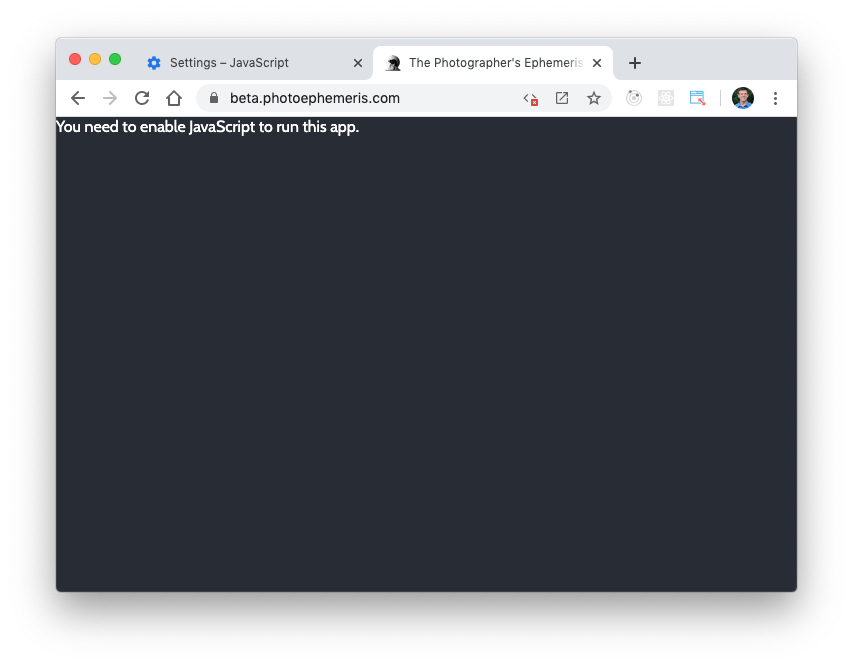 To fix this, in Chrome settings, enable JavaScript, or allow access to [*.]photoephemeris.com: