WEB
Photo Ephemeris Web offers multiple map types. These styles grouped into two different map display technologies
Default
(which uses
Leaflet
under the hood) and
Google
. See
Available Map Styles
for details on the map styles - individual map styles are suited to different types of location, geography and photography planning (e.g. landscape vs. cities).
All users have access to the Default map display mode. Use of Google Maps requires an optional PRO subscription.
In addition the base map style ("Map type"), map layers may optionally be displayed as overlays. We'll cover setting both map type and map layers in this article.
Viewing the Map Controls
To view the map controls, click the map control button at the top left of the map: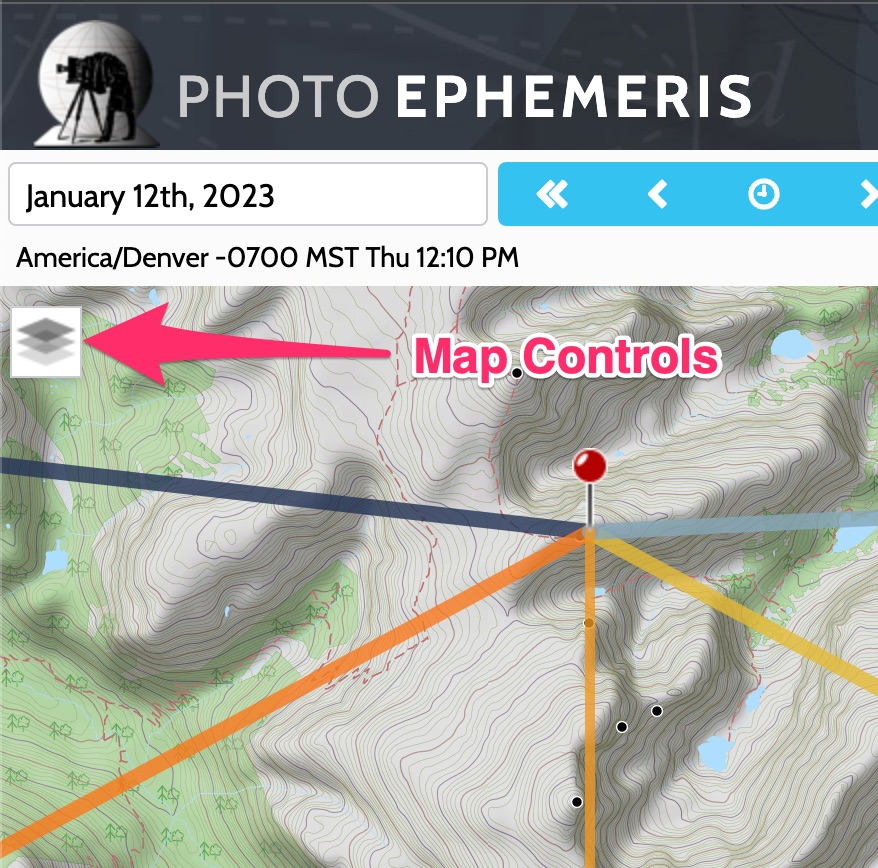 The Map control panel will be displayed to the left of the Map: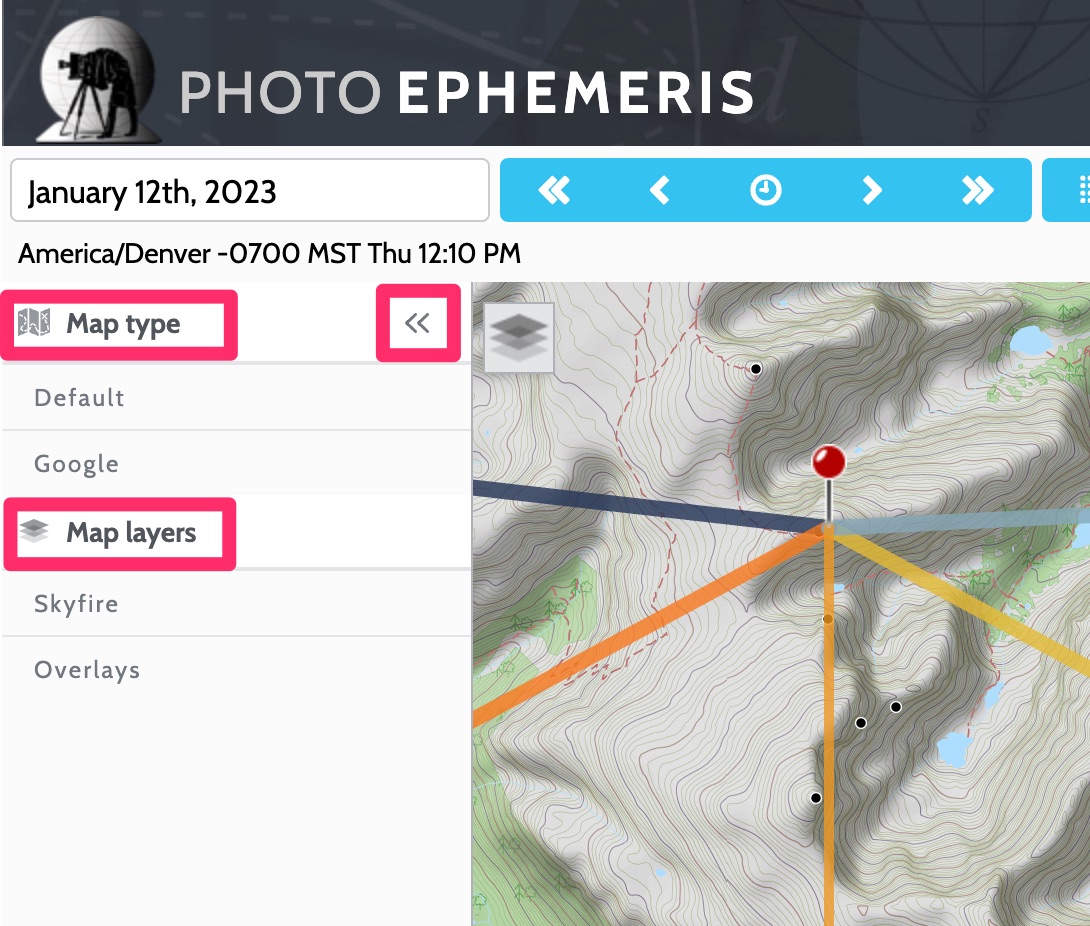 The map control is sub-divided into two sections "Map Type" and "Map Layers". We'll discuss these further below.
If you no longer need to view the Map Controls, you can click the '<<' icon to close the panel, or click the button at the top left of the map once again.
Changing Map Type
First ensure that the map controls are visible (see above). Click 'Default' if necessary to view the available default map types.
Default Map Types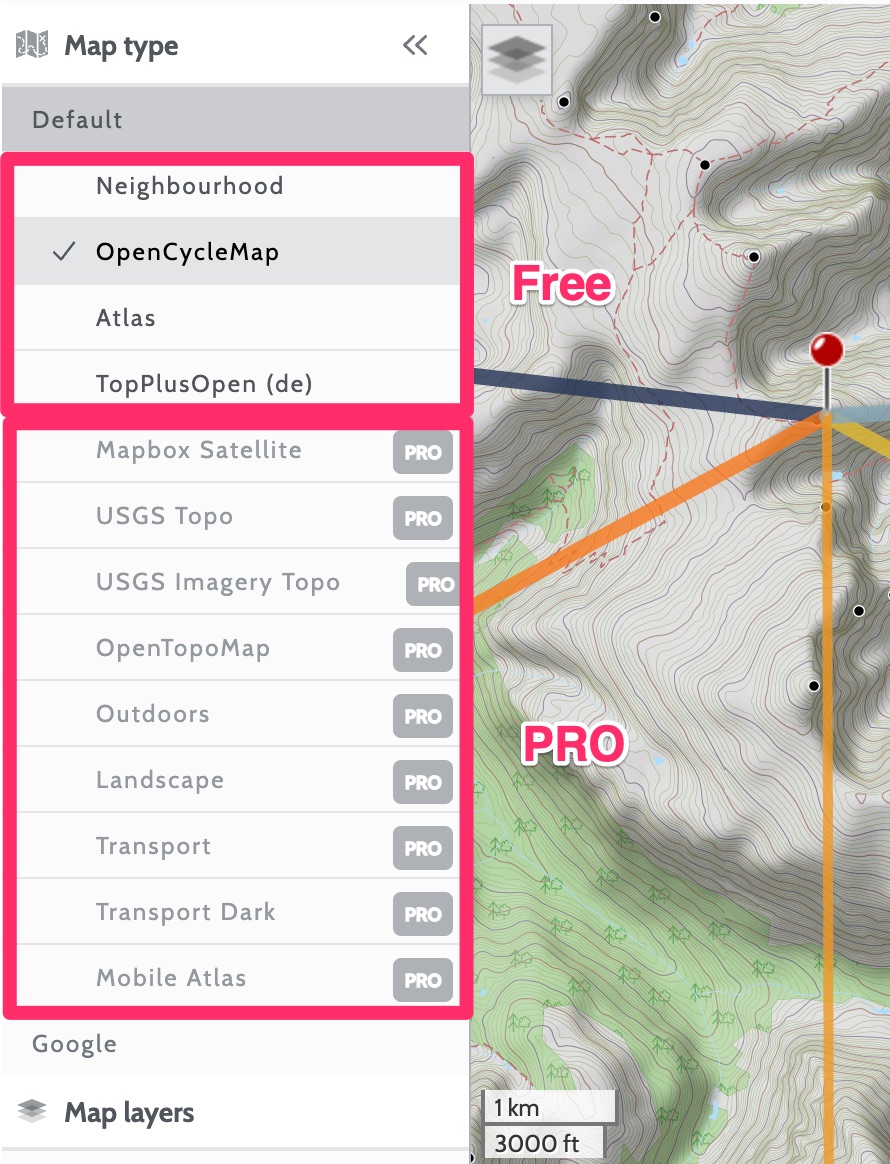 Choose any enabled option to select that map type. A description of available map styles is available here.
For free users, some options are disabled - if you would like to access these map types, please consider upgrading to PRO.
Google Maps
Click Google to view available Google Maps styles (requires PRO subscription). Click to select the style you'd like to view: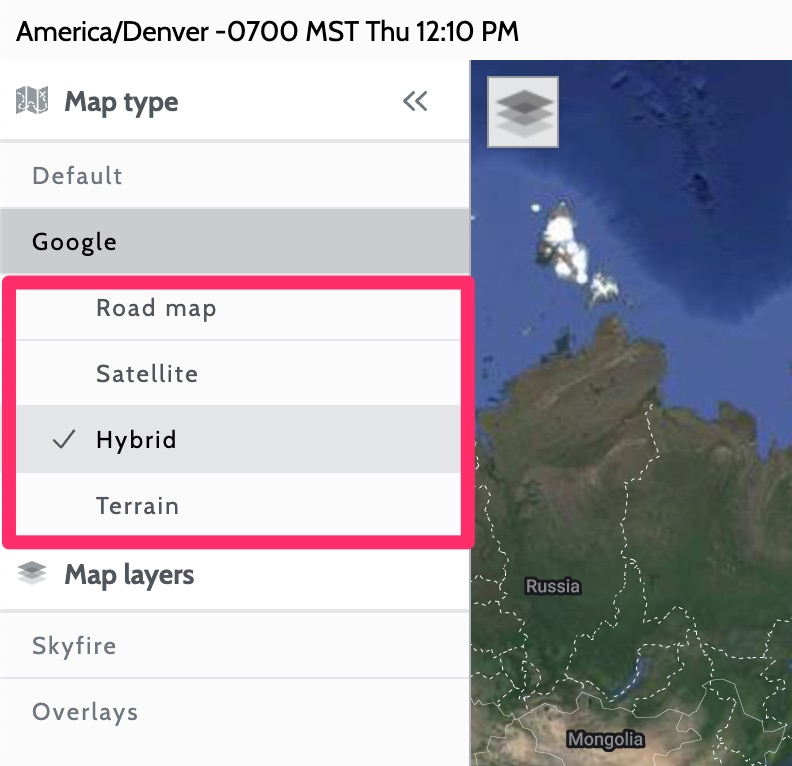 Note: available map styles are subject to change.
Changing Map Layers
Map layers are displayed as overlays on top of the base map style (see above). Layers are grouped into two: Skyfire (forecasts of colorful sunrises or sunsets, requires subscription, free trial available), and other Overlays (currently including Light Pollution for PRO subscribers).
Skyfire
Click Skyfire to view available overlays. If you're not a subscriber, you may wish to checkout the sample forecast or the global coverage map (shown below):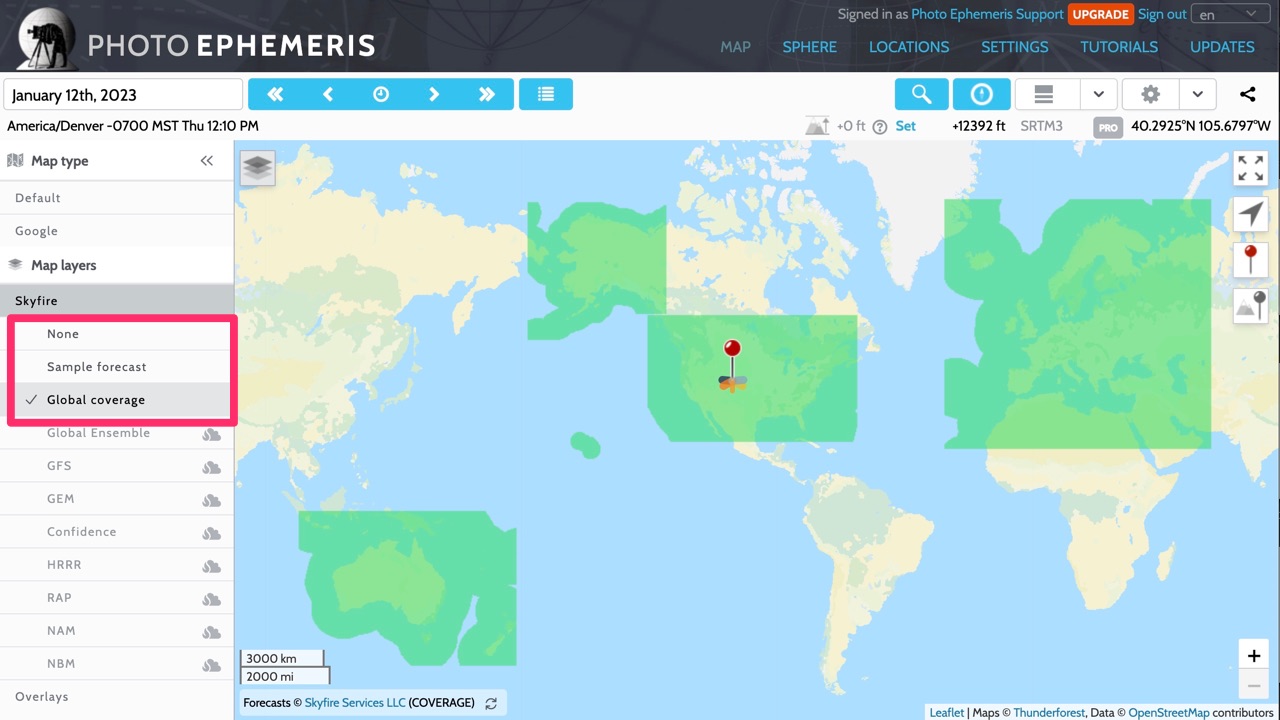 If you are a Skyfire subscriber, remember that in order to view a forecast you must select:
a suitable date (typically from 3 days prior to the current date to 2-5 days after, depending on your subscription level and the forecast type)
a time around sunrise or sunset
and, ensure that one of the forecast layers is enabled
Here's an example:

Note that a legend and attribution text are shown at the bottom left. In addition, a refresh button is displayed. Normally you will not need to use this, but if you have viewed a forecast, stepped away from your machine for a while, you can refresh the forecast to see if new data is available - forecasts are updated at most once per hour.
Light Pollution
A light pollution overlay is available for PRO subscribers, and can be selected as shown: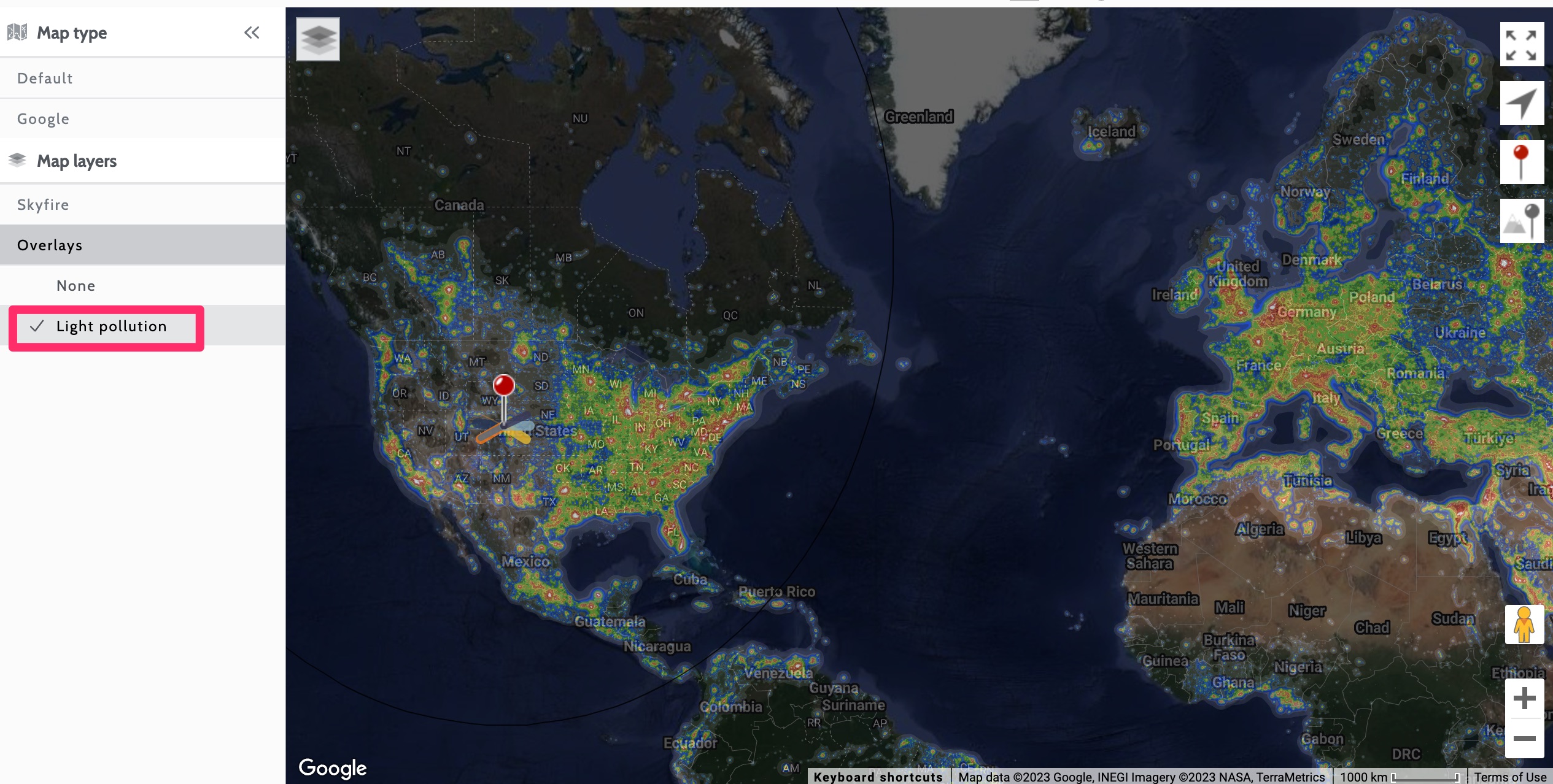 Note:
Selecting the light pollution overlay will deselect any Skyfire forecast (and vice versa), to avoid a confusing appearance on the map
If you are using Google Maps, you will need to zoom out quite far to view the Light Pollution overlay, as the data is available only at limited zoom levels (Leaflet, used for Default map styles, is able to 'overzoom' the data on demand)