WEB
This article applies to Photo Ephemeris Web 2.0.44 or later
Photo Ephemeris Web uses multiple different elevation data sources to obtain the height above sea level displayed within the app. These are:
SRTM3
SRTM1
AsterGDEM
GTOPO30
Google Elevation Service
Each of these data sources consists of a digital elevation model (DEM) that provides height above sea level for some region of the earth's surface.
SRTM3 and SRTM1 are both derived from the Shuttle Radar Topography Mission. The '3' and '1' refer to the resolution of the data, i.e. 3- and 1- arc seconds respectively, which are approximately equivalent to 90m (98 yds) and 30m (32 yds). SRTM consisted of a specially modified radar system that flew onboard the Space Shuttle Endeavour during an 11-day mission in February of 2000. The dataset covers land areas between 60 degrees north and 56 degrees south.
AsterGDEM derives from the Advanced Spaceborne Thermal Emission and Reflection Radiometer, another 1-arc second model. At the time of writing, the underlying source data is using v2 of AsterGDEM.
GTOPO30 is a 30-arc second model developed by the US Geological Survey. It is significantly lower resolution than the others, but provides coverage at extreme latitudes not covered by alternate DEMs.
Google Elevation Service is a proprietary elevation model operated by Google. It synthesizes multiple data sources to provide the best accuracy, and calculated interpolated values where necessary. Its resolution is, as best we can tell, better than 1-arc second.
Which should I use?
The list of available elevation services depends on the latitude of the map pins and your subscription level. A suitable default service is always selected automatically.
PRO subscribers can override this selection by choosing from the drop down above the map next to the displayed elevation: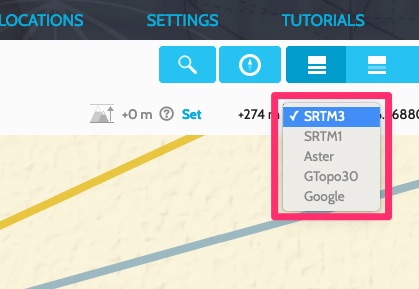 Note: Google Elevation is only available when the app displays a Google Map.
Generally, SRTM3 or Google will provide the best results for general use. SRTM1 has higher resolution, but the dataset also includes some gaps and artifacts. AsterGDEM covers a wider range of latitudes than SRTM, and it or Google are usually the best choices beyond 60N or 56S (e.g. Iceland).
At extreme latitudes GTOPO30 or Google may be the only available choice. The low resolution of GTOPO30 makes it unsuitable for any applications requiring even moderate accuracy (e.g. you cannot use this to estimate when the sun will drop behind a mountain peak).
Experiment, research, and do a site survey!
While Google Elevation service is generally the best option for accuracy, this is not always the case. It pays to experiment and test different services. A good example is Coonowrin in the Glass House Mountains, Queensland, Australia. As you might know, the Anglophone name for this peak is Crookneck - yes, that's what our company is named after!
The official height of the peak is 377m, and you can see that marked on the topographic map here (link):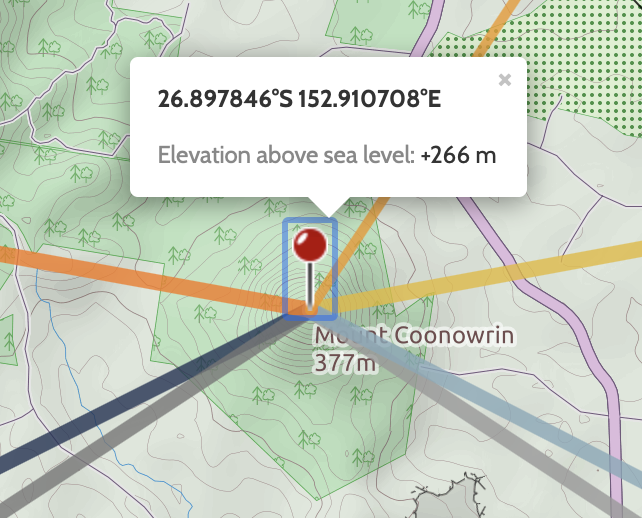 However, as you've probably noticed, the displayed elevation of +266m does not correspond to the official elevation. 266m comes from SRTM1. Google's value for this exact same spot is only +219m - even less accurate.
As the summit is a relatively thin ancient magma plug of a long dormant volcano, it's the type of feature that is hard to measure accurately using sampled satellite data.
So in this case, you cannot rely on any of the current digital elevation services for an accurate value. In these cases, the safest advice is to do a site survey yourself and measure the elevation angle using the Augmented Reality view in TPE for iOS or with a clinometer - typically, you don't need the actual elevation, just the elevation angle for photo planning purposes.