This article applies to Photo Ephemeris Web.
If you spend some time to plan a future photo shoot, you probably don't want to lose your work and have to start over.
This article has some tips on things to do to ensure your work is saved and won't be lost.
Save your pin locations
Photo locations, both subjects and camera positions, can be saved to your Saved Locations list. It's always a good idea to save specific positions for future use. Once saved, a location can be used to set either primary or secondary pin, giving you flexibility in how you use it.
Find out more: Using Photo Ephemeris Web, Part 5: Locations
Export your saved locations
The app will automatically synchronize your saved locations to the server, where they are regularly backed up. However, as an additional safeguard, and to ensure you remain in possession of your own data, we recommend exporting them to KML from time to time. In addition, you can import KML into other applications, such as GPS software. Our Locations tutorial tells you how to do it:
Save your shot plans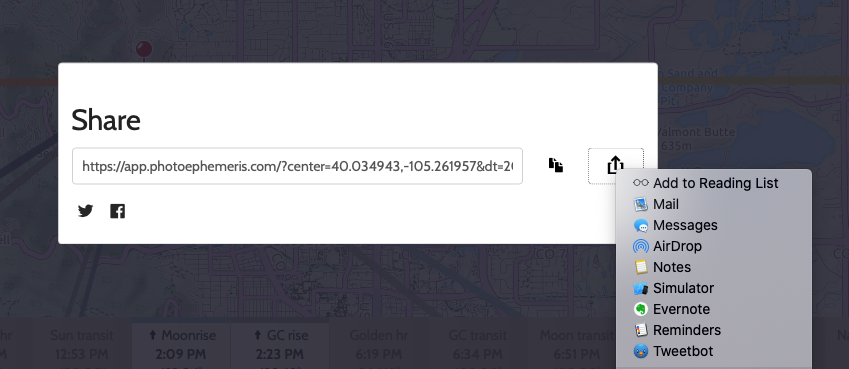 Once you've set pin positions and set the time and date of your shot, it's often worth saving it for future use. You can use the Share button to get a link to your exact shot plan that can be saved, shared and reused in our mobile apps.
Many photographers developing shot plans or researching options choose to save links in a note taking application, such as Evernote. (And if you're using Safari as your browser, you can share directly to any installed application that supports the browser sharing function.)
Find out more: Sharing links