WEB
Skyfire™ provides sunrise and sunset color forecasting for photographers. If you love to shoot colorful skies, Skyfire can help you know what you to expect. By applying a proprietary algorithm to cloud and humidity data sourced from various weather models, Skyfire generates custom color forecast maps.
You can also view forecasts at a glance for your favorite locations. More below!
Accessing Skyfire
Skyfire is available as an optional subscription based add-on to Photo Ephemeris Web. Your current subscription status is shown in a badge at the top right of the page. On the Map page, Skyfire map layers are accessible via the control shown at the top left of the map: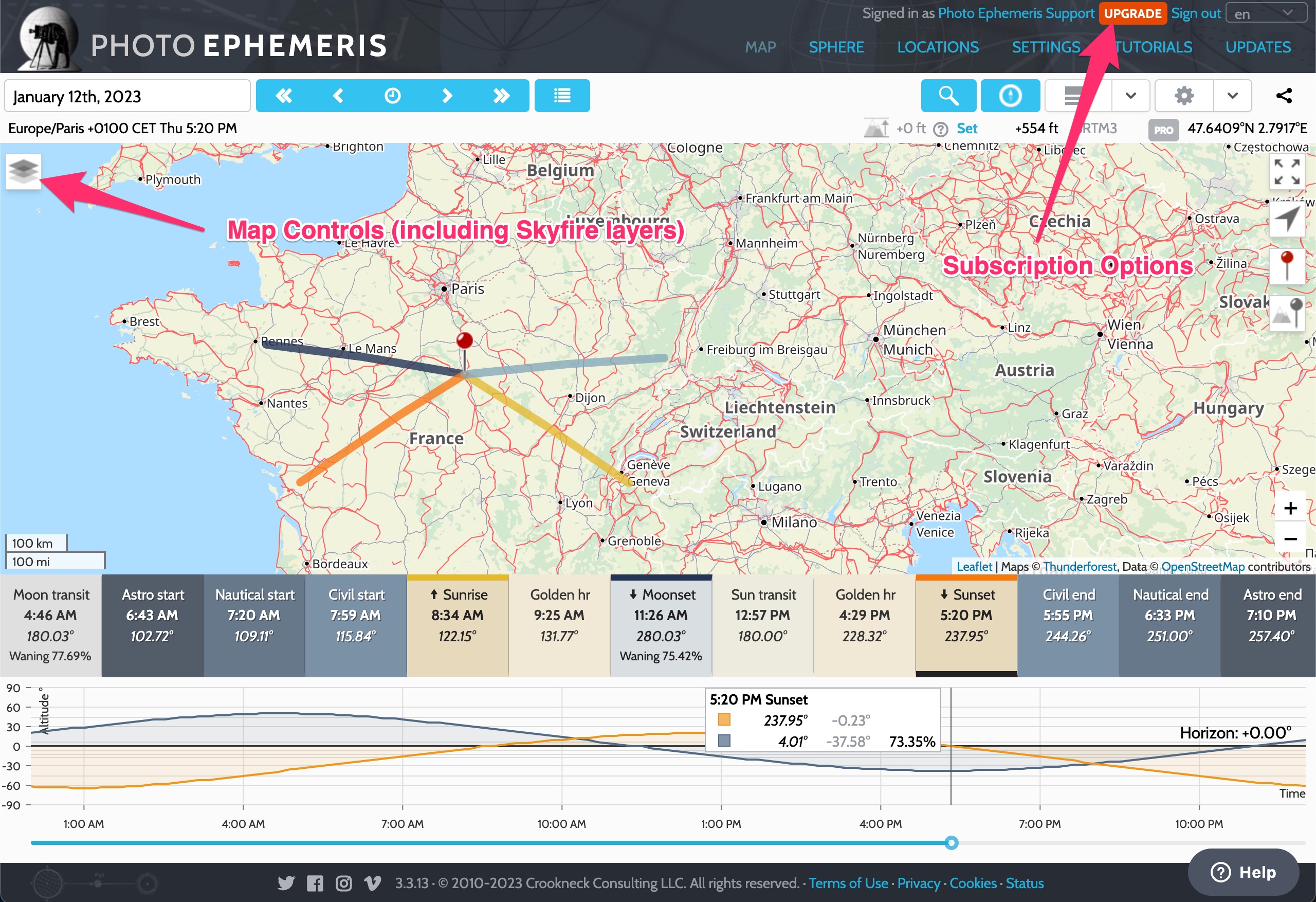 Before you subscribe, you can view a sample forecast by enabling the 'Sample forecast' layer as shown:

The sample forecast shows sunset for the day before yesterday. In the example above, the areas of red and orange are shown where good sunset color was expected. Areas of green and blue show where good color was possible, but not very likely. Clear areas show where no clouds were expected (you typically don't get a good sunset without some clouds to diffuse, refract, and reflect the light!).
For more information on selecting map types and layers, see Changing the map style.
Coverage
Additionally, before choosing to subscribe, you likely want to see what areas have geographic coverage. You can enable the 'Global Ensemble coverage' layer to view that:

Note: the coverage shown is for the Global Ensemble forecast (which is basically our 'best of' forecast that combines the best available sources). Individual forecast model layers may have different or reduced coverage.
Subscribing
If you are already subscribed to Skyfire via either The Photographer's Ephemeris for iOS or Skyfire for Android, you will already have access also via Photo Ephemeris Web - just sign in with your usual account.
If you would like to subscribe, to get started, you can click the Upgrade or Skyfire badge at the top right of the screen: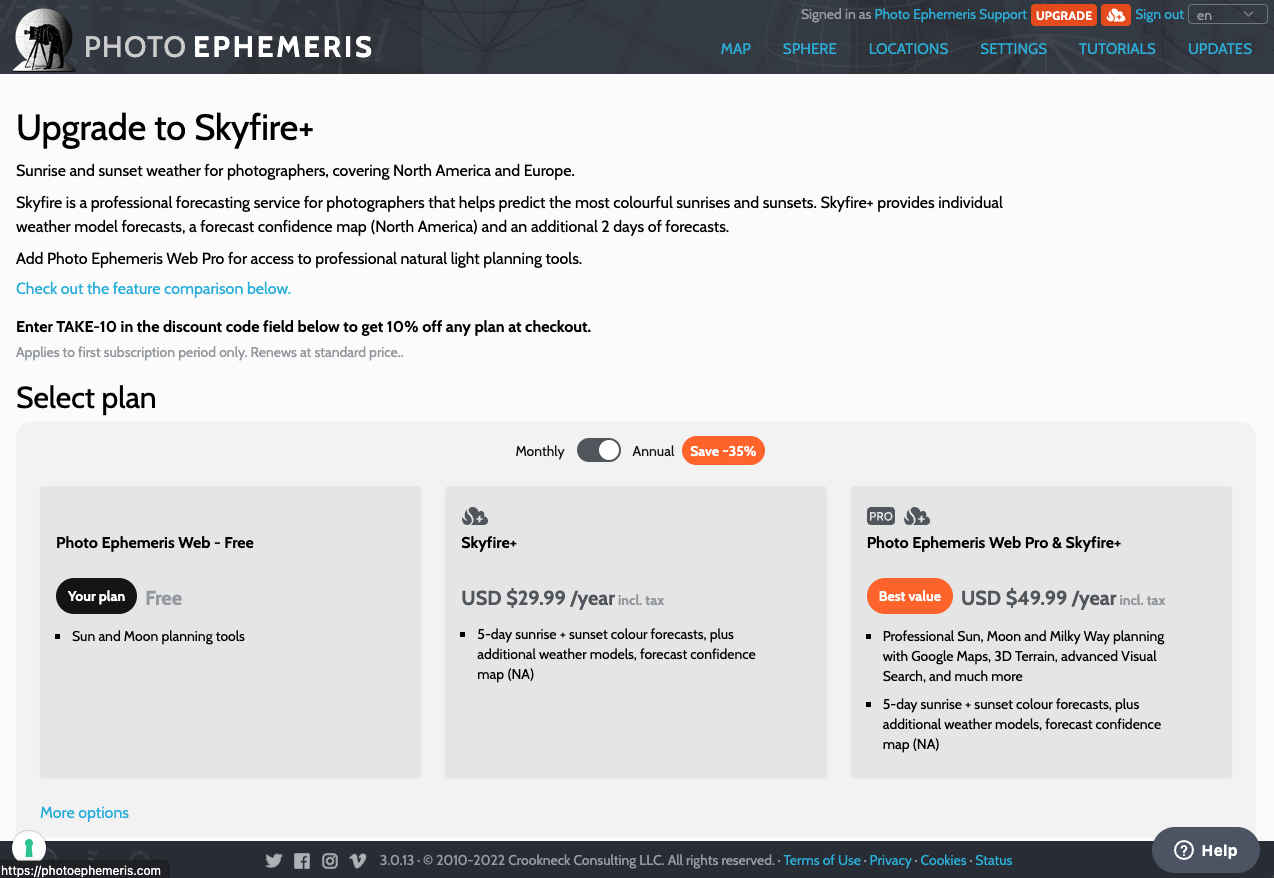 You can subscribe to Skyfire+ or upgrade to both Photo Ephemeris Web Pro and Skyfire+ in a single subscription. There are also choices of payment interval (Monthly, Annual) available at the right of the Select plan area. You can also redeem a 7-day free trial at any time - instructions here.
Note: pricing and plan availability is subject to change at any time.
Skyfire+ gives you full access to all Skyfire features. A feature comparison is available showing the differences between the plans. In this tutorial we will cover the full Skyfire+ functionality.
Once you're subscribed, or have commenced a free trial, the status badge at the top right of the page will display with a solid orange fill, and will also show a '+' if you're a Skyfire+ subscriber.
Viewing a Forecast
Once subscribed (or during your free trial), you can view a Skyfire forecast as follows:
Select today's date or up to 2 days ahead (4 days for Skyfire+)
Select either sunrise or sunset on the timeline
Click the Skyfire map layers button and enable the Global Ensemble layer
You should see the color forecast map overlaying the geographic map.
"But I still don't see anything!" Try zooming out on the map - it's possible you're viewing an area of clear skies where no color is expected.
Forecast Types
In the new integration with Photo Ephemeris Web, Skyfire now offers multiple forecast types:
Global Ensemble (North America, Alaska, Hawaii, Europe, Australia, today +4 days): the global ensemble forecast combines multiple weather models to provide a single forecast.
GFS: Global Forecast System (All regions, today +1 day): GFS is a global model with a base horizontal resolution of 18 miles (28 kilometers) between grid points
GEM: Global Environmental Multiscale Model (All regions, today +1 day)
NAM: North America Mesoscale (North America, today +1 day). The NAM model runs four times each day
HRRR: High-Resolution Rapid Refresh (North America + Alaska, today +1 day). The HRRR sunrise/sunset forecast tends to be less optimistic than other models, but updates more frequently (hourly).
RAP: Rapid Refresh (North America + Alaska, today +1 day). The Rapid Refresh is the continental-scale NOAA hourly-updated assimilation/modeling system operational at NCEP. RAP covers North America
Why have multiple forecast models?
Weather forecasting, as we all know, is an imperfect science. Previously Skyfire offered only the single Global Ensemble forecast. As this is sourced from multiple inputs (for North American coverage), it was possible to see significant changes in forecasts in a short period of time as the various input models were updated at different intervals.
Making individual forecast models available allows you to choose which forecast you find best for your particular area and or season (some models handle certain conditions better than others - and conditions vary by geography and time of year). It also makes it more transparent when there is uncertainty between forecast models. Hopefully this will make it easier to understand changes in the global ensemble forecast and reinforce the inherent variability of the weather forecast input data.
Differences between models (Skyfire+, North America, Alaska, and Europe)
The following forecasts are all for the same sunrise:
HRRR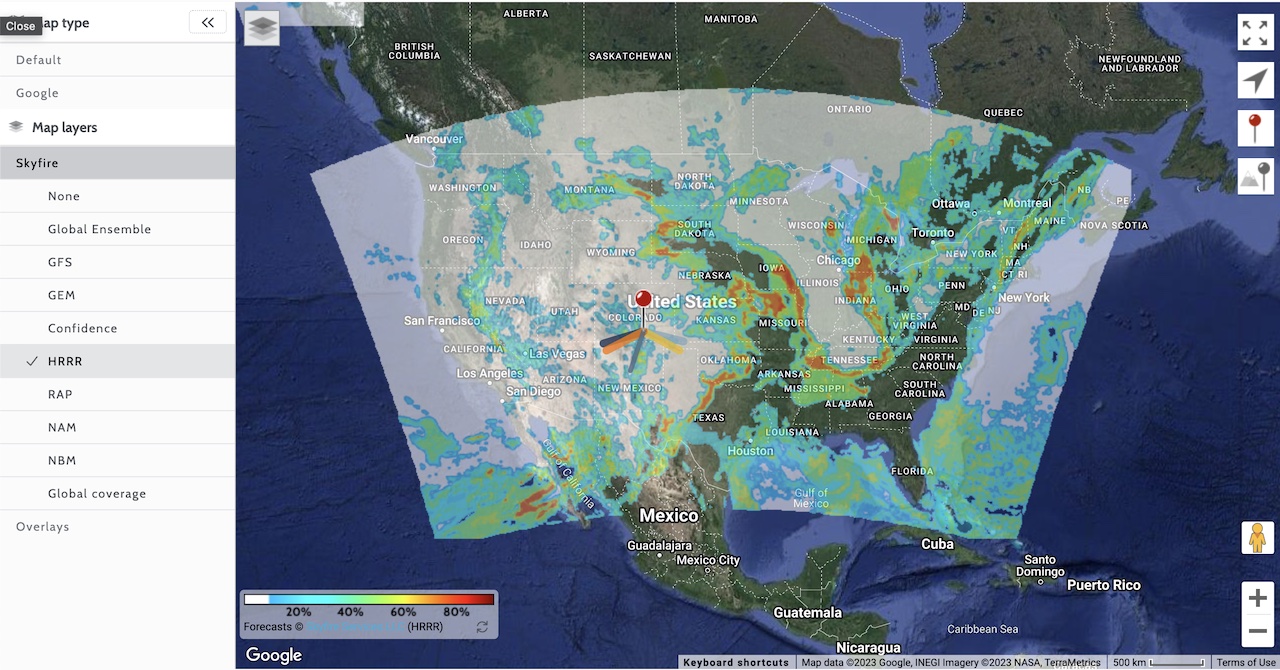 RAP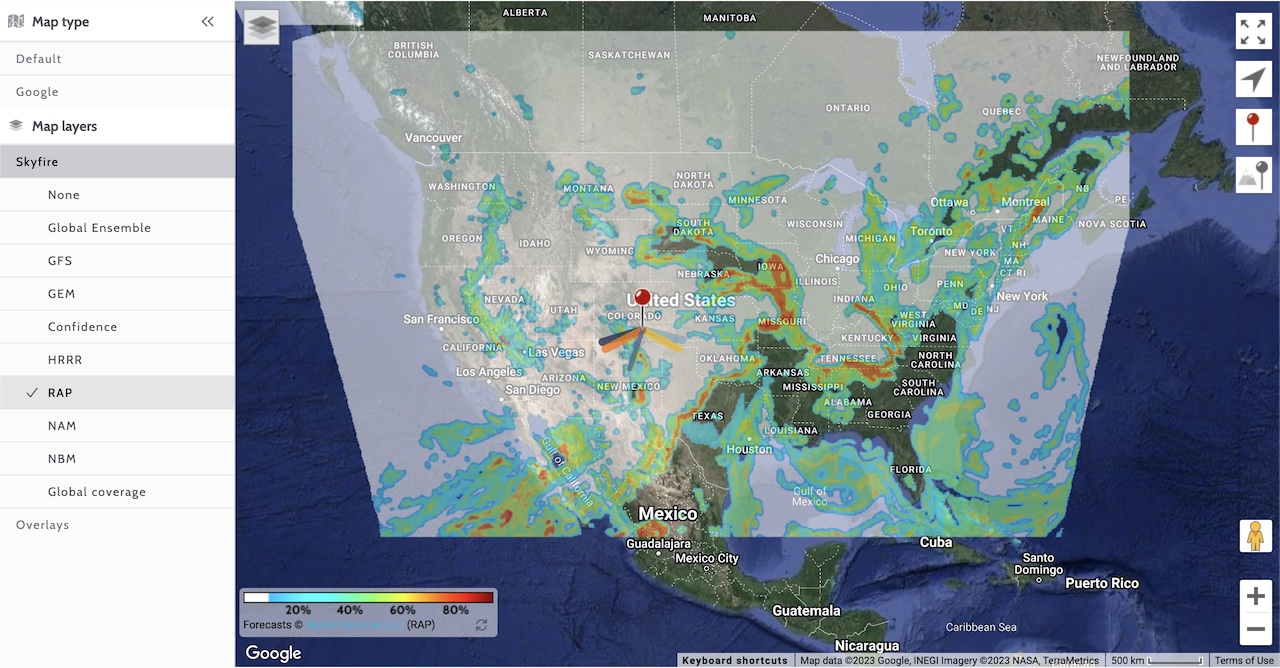 NAM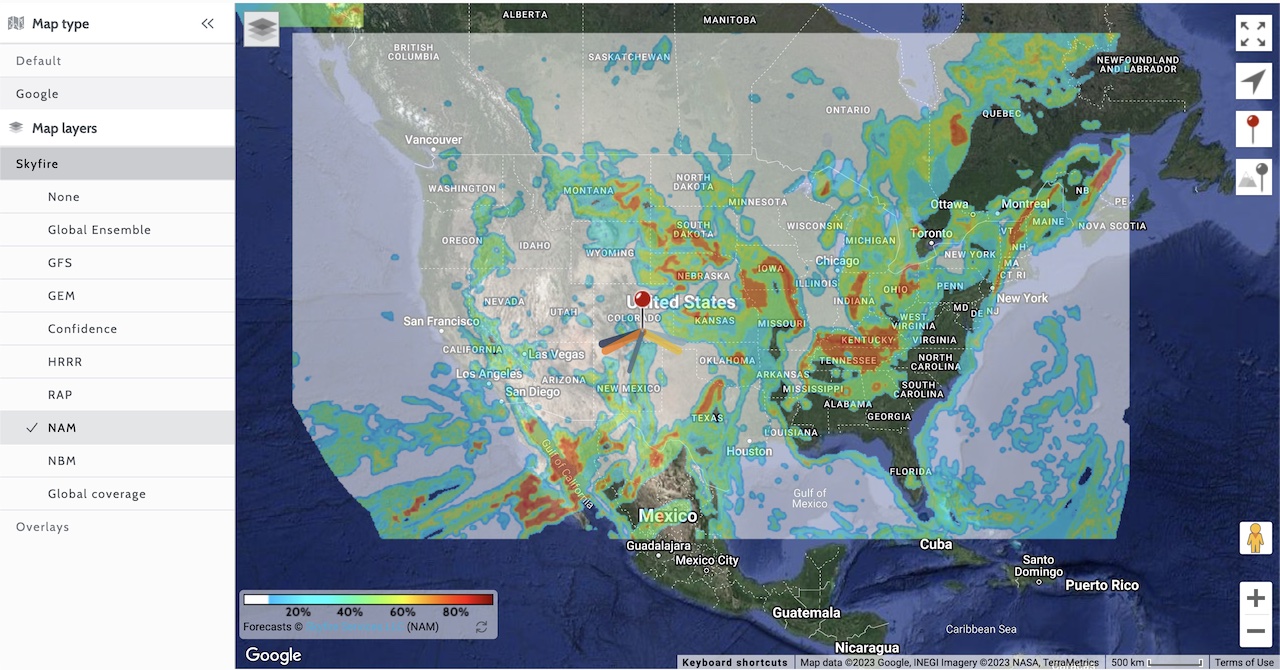 A few things to notice:
The coverage area of individual forecasts varies (NAM > RAP > HRRR)
You can see variances in the amount of color predicted by each model, but broad agreement in terms of major features (e.g. clear skies over the northern central US states, ND/SD/MT)
Generally, NAM is more optimistic than HRRR and HRRR more optimistic than RAP - but not always!
The legend at the lower left of the chart shows what the colors signify. For the color forecast maps, the percentage indicates what might best be described as the 'possibility' of great sunrise/sunset color (higher is better, redder is higher).
We recommend that you check the different models and develop a sense of which performs best in your location - some models handle certain conditions (e.g. marine layer fog) better than others.
Favorite Locations
For many photographers, there are places that are favorites: the locations that you can get to time and again and which the camera loves. You can save all your locations in Photo Ephemeris and, for those special few, you can mark them as favorites.
Tip: for more on Locations functionality, see Using Photo Ephemeris Web, Part 5: Locations.
With Skyfire, you can view 'at-a-glance' forecasts for your favorite locations. To begin, select a forecast you'd like to view: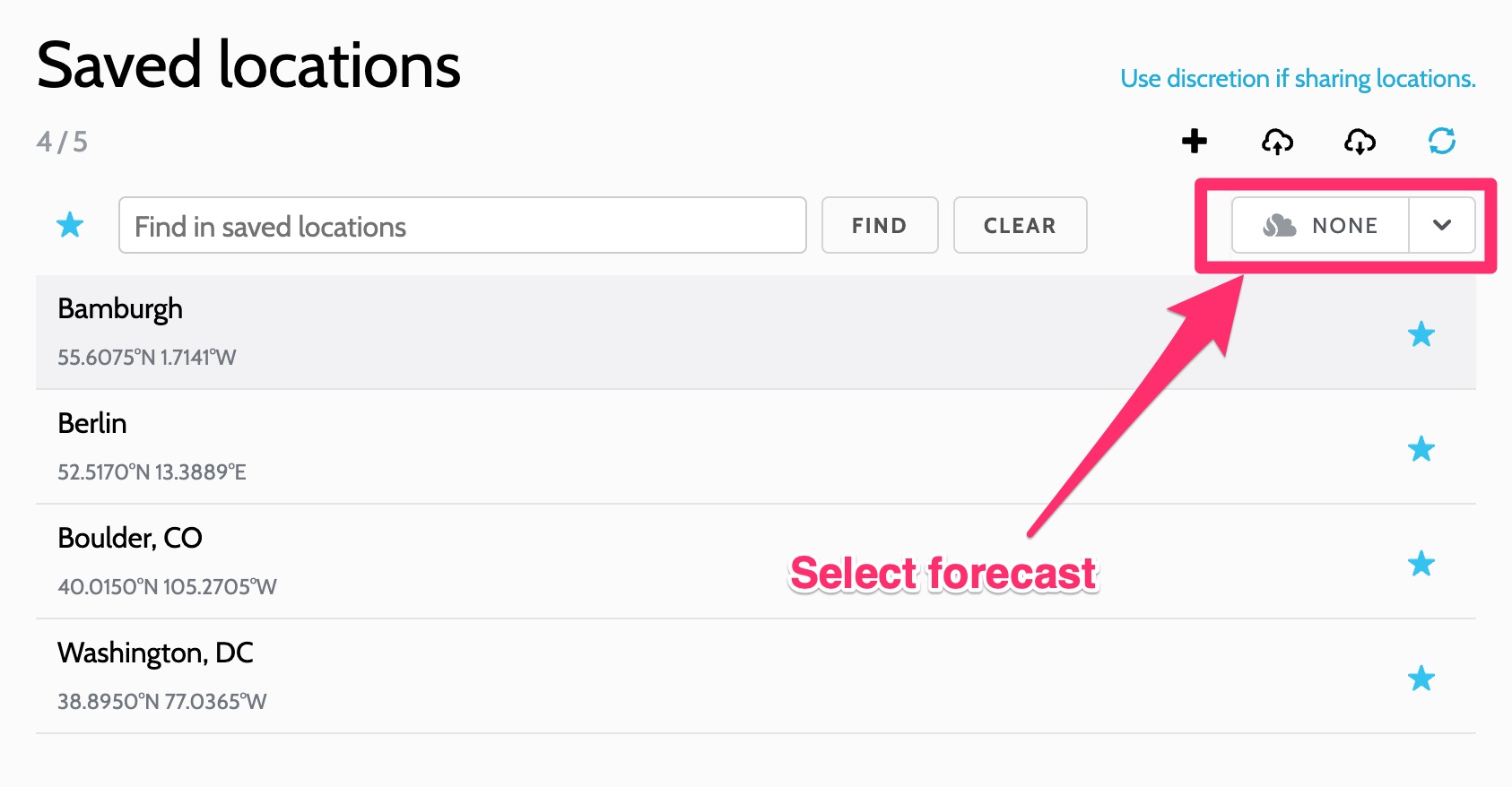 Once you have selected a forecast, you will see an additional control allowing you to choose between showing forecasts for sunrise or sunset. For the selected event, all available forecasts are displayed:
In order from left to right, the forecasts are for today (that is, today's date in your local time zone), tomorrow, the day after, and so forth. You can hover the mouse over any forecast to view the date:
Each forecast circle shows the area around the location latitude and longitude to a radius of approximately 20 miles (30 km). You can click on any forecast circle to view the event and location on the map.
What can I see?
When photographing sunrise or sunset remember that you're generally composing your shot to include the sky. You will often include the horizon in the shot too, rather than pointing the camera straight skywards. In these circumstances, remember that you're looking at clouds that may be many miles away. For high clouds over flat terrain, you may be looking at something 50 miles or more distant from your shooting location.
For this reason, it's important not to consider only the Skyfire forecast for what lies directly overhead, but also for what is likely to be visible. That's why the forecast circles don't shown only the forecast for the exact location, but also for the surrounding area.
In the example above, the 9:33 p.m. sunset for June 27 shows a promising red area above and to the east of the location (north is at 12 o'clock, east at 3 o'clock etc.). In these circumstances, for good skies, you might want to consider shots composed towards the east, rather than to the west.
Forecast availability
When selecting a forecast, remember that not all forecast models cover all geographic areas, and that some of the individual forecast models do not cover as many days as the global ensemble model. For example, when NAM is selected, you may see something like this:

The Skyfire NAM forecast is available for today and tomorrow only, so only two days' worth of forecasts are shown. Additionally, NAM does not cover Europe, so placeholder images are shown for Bamburgh and Berlin.
We'll be continuing to enhance Skyfire functionality in Photo Ephemeris Web, so please check back from time to time for updates!